One of the most feature packed laptops we've seen so far at CES 2011 is the Toshiba Satellite e305 laptop which packs Intel's latest 2nd Gen Core i5 processor, WiDi 2.0 and other premium features as part of the Best Buy Blue Label 3.0 line of laptops.
While there are other laptops with WiDi and other SandyBridge improvements the e305 stands out with an elegant design and plenty of extras including USB 3.0, Hybrid hard drive technology with 4GB of Flash for better performance Dolby Advanced Audio and 4G WiMAX built in.
We've also heard that the e305 will come with three years of anti-theft laptop protection as part of the Blue Label refresh. We especially like the inclusion of Intel Wireless Display 2.0 which will allow you to stream in 1080P HD to your HDTV without any wires.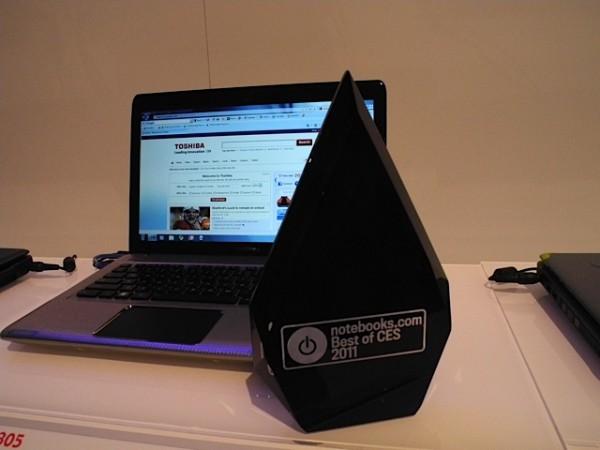 Unlike many other laptops at CES, the Toshiba e305 is the best laptop you'll be able to find at your local store and at around $1,100 it offers a tremendous value for consumers who want a mainstream notebook with all of the latest features.
The Toshiba Satellite e305 is the Best Premium Mainstream Notebook of CES 2011.
Advertisement