Toshibaâ€â"¢s announced the Tecra M8, the company's first 13.3-inch notebook. The compact widescreen display offers 30% more viewing area than 12.1-inch normal aspect notebooks, while maintaining a compact form factor. The first configuration of the Tecra M8 will be the M8-S8011.
âہ"We are confident the Tecra M8 will meet the needs of an increasing number of on-the-go professionals seeking a fully-featured, highly mobile notebook,â€Â said Jeff Barney, vice president of marketing, Digital Products Division, Toshiba America Information Systems, Inc. âہ"Toshiba skillfully incorporated a 13.3-inch widescreen display, Intel Centrino Duo processor technology, an optical disk drive and integrated webcam, all within the compact footprint of the affordable Tecra M8â€â€Âa truly feature-rich fusion of mobility, value and performance.â€Â
Toshibaâ€â"¢s Tecra M8-S8011 features the new Intel Centrino Duo processor technology, including a Core 2 Duo Processor, Mobile Intel GM965 Express chipset and Intel Wireless4 WiFi Link 4965AGN. Optimized for business users, a fingerprint scanner and hard drive protection are standard.
Toshiba Tecra Product Page
The following configuration demonstrates the various specifications and price option available for the Tecra M8-S8011:
* Tecra M8-S8011 (ESUP $1,3991) Genuine Windows Vistaââہ¾Ãƒâ€šÃ'¢ Business (32-bit version)
* Intel® Coreââہ¾Ãƒâ€šÃ'¢ 2 Duo Processor T71007
o 1.8GHz, 2MB L2, 800MHz FSB with 64-bit8
* 1024MB PC2-5300 DDR2 SDRAM memory9
* 120GB (5400 RPM) Serial-ATA (SATA) hard disk drive10
* DVD SuperMulti (+/-R double layer) drive supporting 11 formats
* 13.3-inch diagonal widescreen TruBrite® TFT LCD display
o 1280×800 native resolution (WXGA)
* Mobile Intel® Graphics Media Accelerator X3100 with 8MB-251MB dynamically allocated shared graphics memory
* Intel® Wireless4 WiFi Link 4965AGN (802.11a/g/n)6
* Bluetooth® 2.0 + EDR
* Embedded 1.3 megapixel webcam with built-in microphone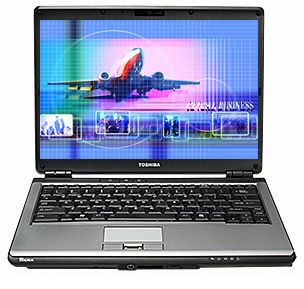 Advertisement