We found one device at CES 2011 that that combines the excitement of extreme sports and mobile technology. The ContourGPS, an HD camera that can be mounted just about anywhere, is gaining the ability to work with mobile phones thanks to Bluetooth and some new apps.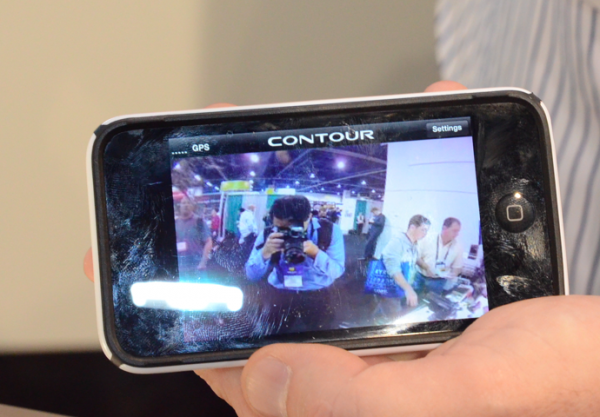 With apps, GPS module, microsSD, Bluetooth and a Lithium-ion battery, the ContourGPS's spec sheet read more like a phone's than  a camera's at first glance.
The new ContourGPS, which shoots beautiful 1080p video, comes with Bluetooth to connect to iOS and Android devices. The Contour app will make it possible for skiers, motorcyclists, bicyclists, auto enthusiasts and other adventurers to preview and fine tune their shots. With Bluetooth enabled, an iPhone can become the viewfinder for a ContourGPS camera. This will allow users to adjust the composition and settings before attempting to capture moments that are difficult, if not impossible, to repeat.
The ContourGPS can be mounted on just about any surface or object imaginable. Contour sells adapters to make it easy to mount the ContourGPS onto handlebars, automobiles, helmets and even weapons.
The $349 CountourGPS is well built and packs a lot of technology into a tiny package. The ContourGPS will allow both geeks and athletes shoot movies like never before. Bluetooth and the Contour Mobile App make the Contour GPS the Best Mobile Lifestyle Accessory of CES 2011.
Advertisement