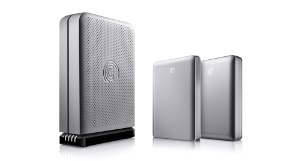 Seagate announced the GoFlex for Mac collection of external drives at CES 2011. The drives are nearly identical to the GoFlex drives that have been available at retail for quite some time, except they are HFS+ formatted, allowing Mac users to start using them without having to go through the hassle of reformatting them. The GoFlex for Mac drives can also be used to transfer files with PCs as long as users install a free HFS+ driver on their PCs.
There are four flavors of Seagate GoFlex drives. The GoFlex for Mac ultra-portable drive will come in 1TB ($199.99) and 1.5TB ($249.99) capacities. The GoFlex for Mac Limited Edition ultra-portable drive is slimmer than an iPhone and is only available with a 1TB capacity ($199.95). The GoFlex Pro for Mac ultra-portable is faster (7200 RPM) and more expensive per GB ($149.99 for 500GB; $179.99 for 750GB), but something worth considering if you need to shuffle around large files on the fly. The GoFlex Desk for Mac is a good choice if you're looking for a drive to backup multiple Macs. The GoFlex Desk for Mac Drive uses 3.5″ platters and comes in 2TB ($229.99) and 3TB ($279.99) capacities.
Each of the GoFlex for Mac drives come with both FireWire 800 and USB 2.0 adapters. USB 3.0 and eSATA adapters can be purchased separately for use with PCs.
Advertisement