The Toshiba Satellite E305 is a new Blue Label 3.0 notebook sold exclusively at Best Buy for $899 with many features that normally come in notebooks that cost well over $1,000. In addition to coming with all of the latest specs, the E305 includes an all metal alloy case, anti theft technology and a 2 year warranty.
We have just received the Toshiba Satellite E305-S1990 to review and couldn't wait to share our first impressions of the new Blue Label 3.0 notebook which won our Best Premium Mainstream Notebook of CES 2011 Award.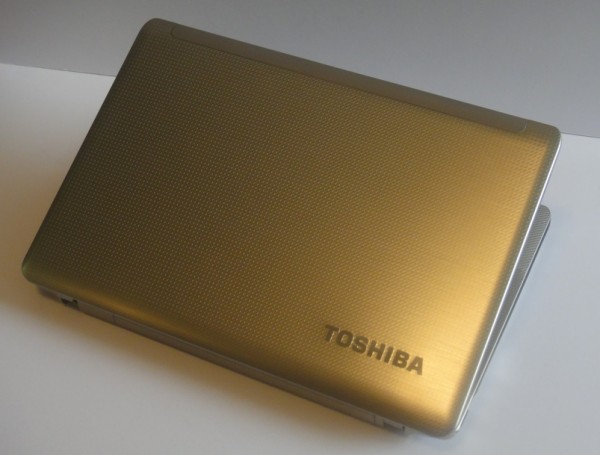 Toshiba Satellite E305 Quick Specs
The Toshiba E305 is powered by a 2.30GHz 2nd Generation Intel Core i5 processor with built in Intel HD 3000 graphics, 4GB RAM, a 500GB Hybrid hard drive that uses a small SSD to speed up tasks and startup times and a Blu-Ray drive. There is an island style backlit keyboard and a decently sized multi touch mousepad. For audio, the notebook is packing Dolby Advanced Audio. There is a full complement of connectivity including WiFi, WiMax and an ethernet port. You can also find  a USB 3.0 port, USB 2.0 ports, VGA, HDMI and audio jacks.
The E305 has a 14″ display with a 1366×768 resolution and is  also WiDi  2.0 ready for wireless HD streaming to a monitor or HDTV. unlike many WiDi 2.0 laptops, the Satellite E305 includes a Wireless Display 2.0 compatible adapter in the base $899 price.
Toshiba Satellite E305 Hands On Video
Toshiba Satellite E305 Mini Review
We will have a full review of the Satellite E305 posted shortly, but here are our first impressions as we opened the box and began using the new notebook.
Design: The all metal case feels nice and the silver/gold look is nicer than anticipated. Rather than being ostentatious, like some colors are, it looks classy thanks to a pattern that carries over to the keyboard deck. The sides of the E305 have a nice black accent that ties the notebook together well.
Display: The 14″ display has a pretty decent viewing angle, which should work for sharing with a friend or two, but you can use the included WiDi adapter to quickly share on your HDTV too.
Keyboard: The Toshiba E305 has a backlit island style keyboard which immediately drew us to the notebook back at CES 2011 where it won one of our Best of CES awards. So far, the keyboard has a nice layout and good keyspacing. the keys are pretty flat, but aren't uncomfortable to type on. Key layout is pretty nice, and the key size is also standard. The only issue so far is that the spacebar seems to need more force than the rest of the keys to register.
Mousepad: The mousepad on the E305 is pretty large and supports multitouch. In our initial tests two finger scrolling worked well, as did two and three finger clicks. Though, you cannot tap for two and three finger clicks, you actually need to click.
Performance: We will be putting the Core i 5 Sandy Bridge Processor, new Intel graphics, Seagate hybrid hard drive and everything else to the test for our final review. If you want to know about a specific application or task, leave us a comment below.
Based on our first impressions, the Satellite E305 is meeting the high expectations we had. We've been fans of the Best Buy Blue Label notebooks for a while now, and  the current lineup looks like it will continue that tradition. We will update this post when we have a full review of the Toshiba Satellite E305 ready for you to read.
Toshiba Satellite E305-S1990 Gallery
Toshiba Satellite E305-S1990 Specs
Intel® Core™ i5-2410M processor
Genuine Windows 7 Home Premium (64-bit)
14.0″ widescreen
4GB DDR3 1333MHz memory
500GB HDD (7200rpm, Hybrid 4G Serial ATA)
Intel® Integrated Graphics
Wireless Display 2.0
2 Year Warranty
3 Year Anti-Theft Protection
Advertisement