The ThinkPad T420s is a capable business notebook with a high-resolution display, durable lightweight frame and plenty of business features.
The ThinkPad T420s commands a price premium over the T420, but that accounts for the lighter weight and the 1600 x 900 resolution display that won my heart during this review.
I would appreciate longer battery life, but the great keyboard, system performance and durability help the T420s move past this shortcoming.
Pros

Sturdy design
High resolution display
Good performance
Stellar Lenovo keyboard

Cons

Small touchpad
5 hour battery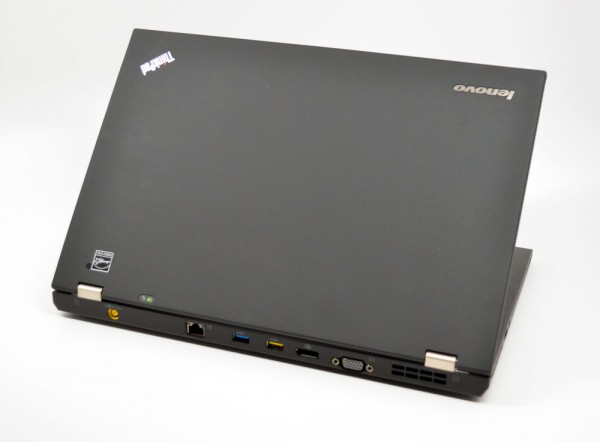 ThinkPad T420s | $1,099| Business Notebook

The Competition
Who is the ThinkPad T420S for?
The ThinkPad T420s is a business notebook aimed at businesses who will deploy them to a full workforce. The ThinkPad T420s isn't a newfangled Ultrabook, but it is still thin and light enough for the business traveler to take cross-country without complaints. Small businesses and students would also be wise in looking at the ThinkPad T420s.
Design
There's no surprises in the Lenovo ThinkPad design, with a standard matte black finish and metal hinges. Like the classic black suit, it doesn't go out of style, especially in a corporate environment.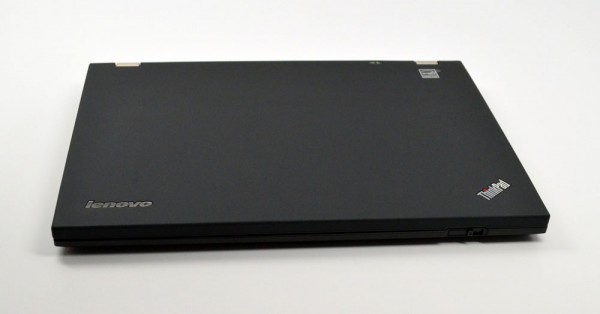 That said, Lenovo has added a soft touch finish to the lid and curved the edges more so it doesn't look like you're carrying a chunky work notebook if you happen to take it with you on vacation or to the coffee shop.
Lenovo uses a carbon fiber reinforced bottom and a ABS plastic lid to add to the durability and strength of the T420s, which is carried over to the interior with a roll cage to keep your hard drive and components safe in case of drops or other accidents. The keyboard is also water-resistant with drain holes on the bottom.
The T420s is .8 to 1 inch thick and weighs in at four pounds, which makes for a portable business notebook that isn't going to break your back or bulge your backpack.
Keyboard and Touchpad
Lenovo is known for excellent keyboards and users of the classic ThinkPad style keyboards will feel right at home on this notebook. While there is no island style keyboard or backlit keys like the ThinkPad X1 and ThinkPad Edge notebooks, this is still an amazing keyboard.
There are no odd key placements to the edges of the keyboards, which ruin the typing experience on many new notebooks. The key travel is great, though some users will need to adjust to spacing if they are coming from a island style notebook at home. I enjoy using this keyboard, and could use it on a daily basis, which says a lot about its quality.
The touchpad is small, thanks in part to the extra buttons right below the spacebar which are there for TrackPoint users. If you like TrackPoint you'll be happy with this system, which performs very well. The touchpad is relatively small at about 3 inches wide and 2 inches tall. The touchpad is textured which aids accuracy, but you can forget about using multitouch gestures. There are dedicated buttons at the bottom of the touchpad which fold over the edge, but are large enough to easily hit without looking.
Display
Lenovo knows that business users need to be able to get work done on the go, and many times that means comparing two documents side by side or using multiple programs at once.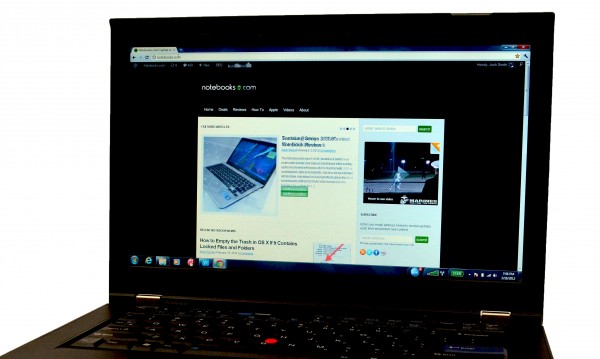 The ThinkPad T420s has a 14.1 inch matte display which helps keep the weight and size down, but there's nothing small about the 1600 x 900 resolution. Because Lenovo opted for this higher resolution I was able to use this notebook to accomplish tasks that normally would have taken significantly longer or required a second monitor. Most notebooks this size stick with a bare minimum 1366 x 768 resolution.
The viewing angles and colors are both good. Though vertical viewing angles suffer, the ability to adjust the angle of the display all the way flat means you can find a comfortable angle in almost any situation.
The matte display makes working outdoors or in harsh lighting possible, and is a must have for business users that need the ability to work wherever they are.
Features
The ThinkPad T420s has a number of business friendly features that will help you sell this notebook to your IT manager.
Docking – The ThinkPad T420s can dock on a port replicator or Mini Dock Series 3 to simplify connecting the notebook in your office and taking it out for a trip.
Microphones – Dual HD Microphones greatly enhance conference calls, and can keep the other caller from hearing keystrokes as loud and focus the microphones on your voice, or turn it into a speakerphone for a small group.
Security – Optional fingerprint reader, smart card support and the Lenovo Hardware Password Manager offers a nice collection of security features.
Durability – The ThinkPad T420s meets eight military specification tests for harsh conditions and durability, so it can handle work in the real world.
These features add up to a well rounded business notebook that has extras you'll actually use.
Performance and Graphics
The ThinkPad T420s review unit we have comes with a 2.5GHz  Intel Core i5 2nd Generation processor, 4GB RAM and a 320GB 7200 RPM hard drive. Graphics are left to the integrated Intel 3000HD processor, which delivers enough processing power for most office tasks and business users.
When it comes to accessing Access databases, complex Excel spreadsheets and using other business software the T420s is more than capable.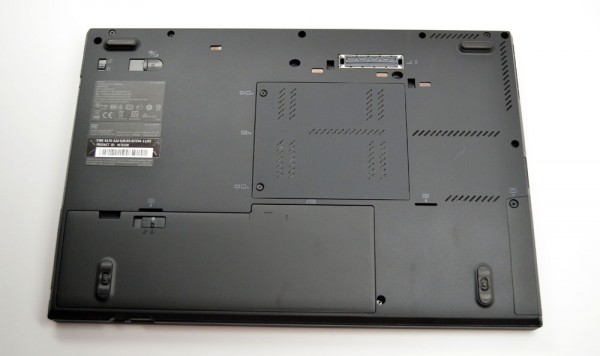 If you need to watch HD video, do simple video conversions or process the occasional HD video, it will also work out well. You can use the included DVD drive to burn it to disk.
Don't plan on playing games on this unit or doing video editing on a daily basis, unless you opt for the NVIDIA NVS 4200M discrete graphics upgrade.
Dolby Home Theatre v4 adds oomph to the audio on the ThinkPad T420s. While it isn't incredibly loud, you get decent depth and good overall sound for sharing a presentation with a small group or listening to tunes in your office or on the road.
Battery Life
Because the ThinkPad T420s is a thin notebook, you have to give up some battery life, but even with the compromise you end up with more than a half day of battery life. Using the Laptop Magazine Battery Test, which simulates web browsing at 40% brightness, the battery lasted just over 5 hours. 5 hours and 18 minutes of battery life isn't bad, especially given the size and weight of this notebook.
The Bottom Line
The ThinkPad T420s offers great performance, an incredible high-resolution matte display and an excellent keyboard. With extras like better video conferencing and premium audio users will appreciate the T420s as much as IT managers appreciate the security and durability.
Thanks to the great $1,099 starting price and feature-set, the ThinkPad T420s is very attractive for business users and a good option for students who want a notebook capable of surviving four years of years of school.
Gallery
Specs
| | |
| --- | --- |
| OS | Windows 7 Home Premium 64-bit |
| Display (size/res) | 14-inches, 1600 x 900 |
| CPU | 2.50-GHz Intel Core i5-(2nd gen) |
| RAM | 4GB |
| Graphics | Intel HD Graphics 3000 |
| Storage | 320GB 7200RPM HDD |
| Optical Drive | DVD Multirecorder |
| Wireless | Wi-Fi 802.11 b/g/n; Bluetooth 3.0 |
| Ports | 1 USB 3.0, 2 USB 2.0, DisplayPort, VGA, Ethernet, SD/MMC card slot, headphone/mic |
| Size |  13.5″ x 9.1″ x 0.83–1.02″ |
| Weight | 4 pounds |
Advertisement