Dolly Drive is interesting new service which was announced at MacWorld 2011 that allows users to backup to the cloud using the Time Machine tool found on MacBooks. Unfortunately the folks at Dolly Drive probably should have waited a while to announce the service which feels like it is in need of more beta testing. In our test of the service we found it to be buggy and slow, creating more concern about  your precious files being backed up than it does assurance and security.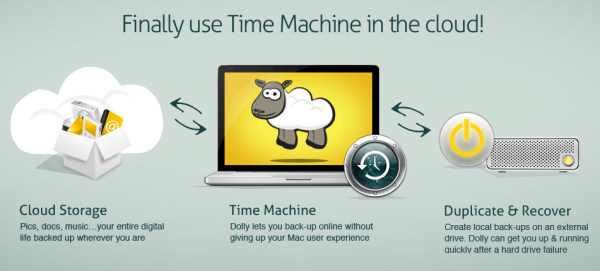 We signed up for the monthly service which offers 250GB of cloud based Time Machine backups for a Mac OS X computer. The installation was simple enough, but the first time we opened it up, it crashed. We were impressed that within a few hours their tech support emailed us saying they received the crash report and wanted to know if it was a repeated problem or a one time thing. It did only happen that once – at that point.
After it finally ran, a configuration screen helped us get started with Time Machine. In case you didn't know, Time Machine is the built-in backup tool in Mac OS X. It only backs up to external drives. Dolly Drive works between the OS and Time Machine to offer a network drive upon which your Time Machine backup will run. It also offers an option to clone your hard drive to your Time Machine backup drive connected to your Mac. This way you can quickly restore from a catastrophic crash. Unfortunately, we never around to testing that feature since the cloud backup part of the app was so problematic.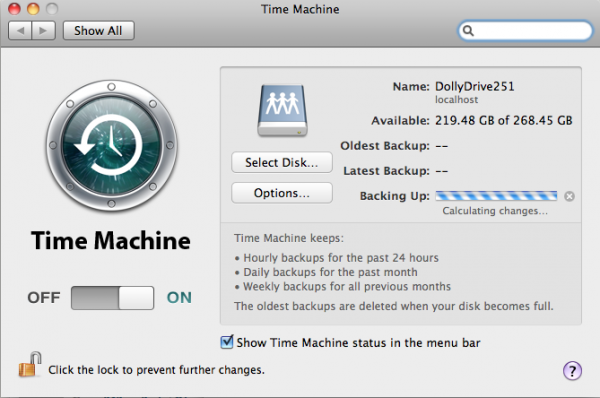 Next, the Dolly Drive assistant helped us select what to backup, after the app was set up to run with Time Machine. Select the folders or drives to be backed up. We wanted to use it primarily to back up our very large photo library – over 100GB. Once we were finished selecting what to back up, we let it do its magic.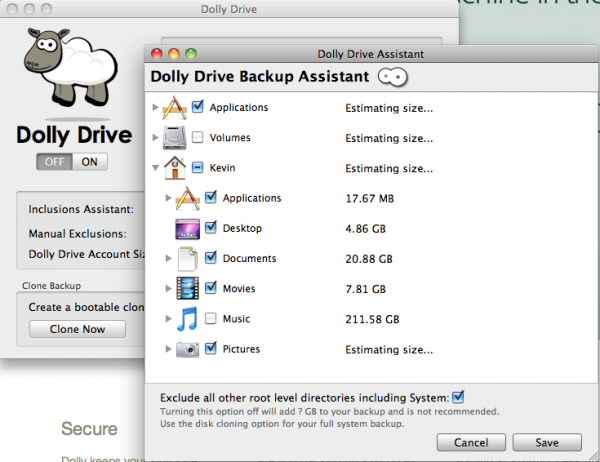 Sadly the only magic it does is make $10 disappear from your bank account. That is the monthly fee for 250GB of storage. The initial backup was supposed to be about 148GB. The first day it only backed up about 300+ MB of data. That's right, MB! At that rate it would take nearly 500 days to backup. Not acceptable! Fortunately, we contacted their very responsive technical support. They told us to restart the process and on the second day the bits started flying. By the end of day two we had nearly 25GB of data backed up over a 5Mbps-upload-speed Internet connection. That was fast. If it had kept that pace we'd be done in less than a week, which was much faster than another service we tried. We were really impressed. But then on day three the trickling bits returned. There was also a crash that caused the backup process to start all over again. We had to start over. By the end of day three we were back to having less than a GB of data backed up.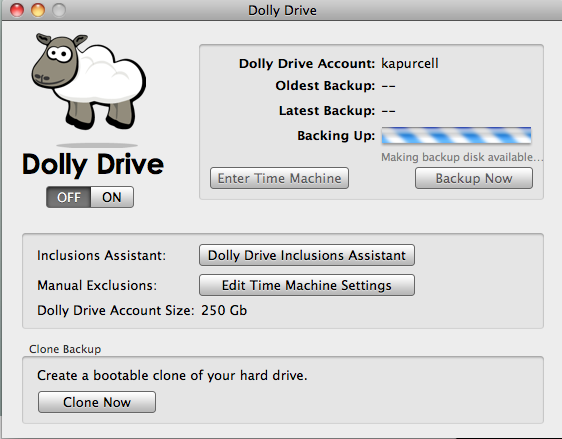 Slow speed on 2 of the 3 days was not the only problem. Whenever Dolly Drive was running, the whole system bogged down, and a few times we had a total freeze. Finder would not respond, causing us to have to shut down apps and reboot the computer. Using the Apple menu and Restart menu item didn't work though, so we had to press and hold the power switch to do a hard shut down, which is only advisable in extreme situations like this.
If there is one redeeming quality, when it did work it worked fast. We have a feeling that if they ever get the stability of their 1.0 software fixed, Dolly Drive will be lightning fast.  Also, their tech support people are fast to respond to their support forum questions. At least they were the first couple of days. On the day we are writing this there have been almost no responses all day. We suspect everyone has their nose to the grindstone fixing these issues.
Another issue with Dolly Drive is the limit. While 250GB is a lot of storage, for some it won't be enough. We have been told that a higher cap is coming for an added fee. We understand that they want to get the bugs worked out before allowing that much data on their servers. But Carbonite offers an unlimited option for one computer at half the price and works on Windows and Mac.
Before giving Dolly Drive any money, wait till we early adopters get the bugs worked out. For now go with a more mature cloud backup solution like Carbonite. It doesn't interface with Time Machine, but after using Dolly Drive, we've decided that doesn't really matter. Also Carbonite is cheaper at only $55/year for each computer and it is unlimited storage, although it slows down after 200GB. Dolly Drive was faster than Carbonite on that one day. But until it is consistent, that is not a plus.
Here is the video we showed you in our initial news report from MacWorld:
The service costs $10/month for up to 250GB of storage. For each month that a user subscribes they will add another 5GB meaning afte three months a user will get a total of 265GB. Six months gives you 280GB. For only $5 you get 50GB and 100GB is $7.50.
Pros:
Fast when it worked
Monthly fee is reasonable
Installation was simple
Responsive tech support through forum
Cons:
Unstable, beta-like software
Backup trickled 2/3 of the time
Froze our system a few times
If backup crashes, Dolly Drive doesn't resume, but restarts from scratch
No way to add extra capacity
Would be more competitive with Carbonite if it had unlimited option
Advertisement