With most systems today coming with touchscreen and two-in-one designs, the Acer E15 feels a little like a computer from a few years ago. It's got a basic black and gray textured design with a full-size keyboard/number pad. The 1080p 15.6-inch screen looks good and the processor, graphics and memory gives it some power, but a couple of weaknesses keep it from getting a clear recommended buy.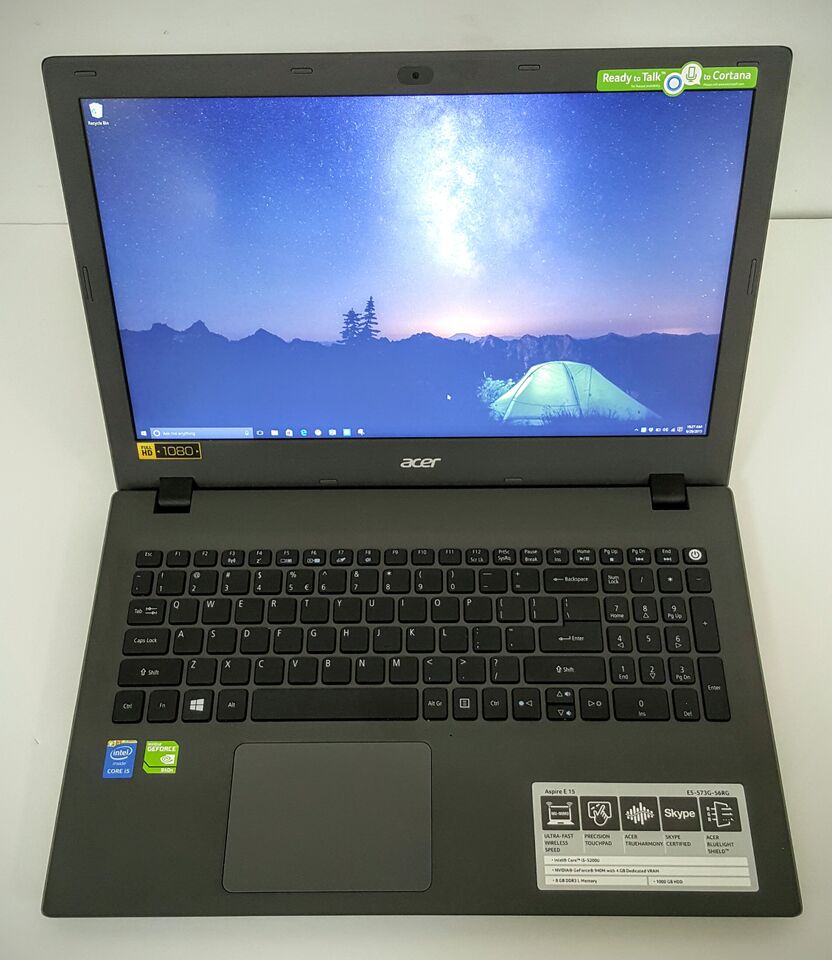 Do people still want a traditional 15.6-inch computer with some power and a conservative design? If they do, they will want to look at the Acer E15 series. The Acer E15-573G-56RG comes with some potentially powerful specs and a good display. Is it good enough to appeal to most buyers today?
Acer E15 Video Review
Acer E15 Design
The black exterior and gray interior give the Acer E15 Series a conservative look. The large and heavy notebook feels more like a desktop replacement that is a little more mobile than most large notebooks. At over 5 pounds, most people won't want to tote this machine around too much. This computer is thicker and heavier than most.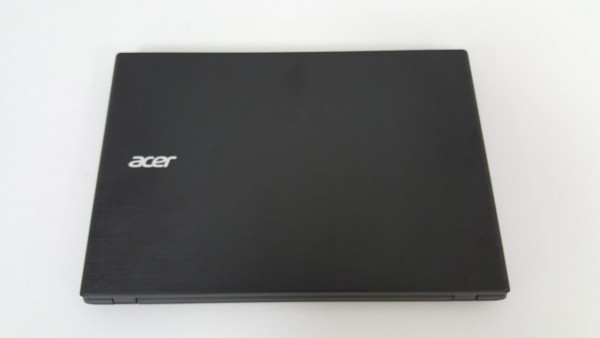 The lid feels textured as does the platform around the keyboard and the bezel. It looks tasteful and conservatively attractive.
The Acer E15 comes with a slightly tapered shape. The lid will open most of the way, but not all the way. It's a traditional notebook computer design. The screen doesn't swivel or open 360 degrees. It doesn't even open 180 degrees flat. But plenty of buyers still want a traditional notebook computer.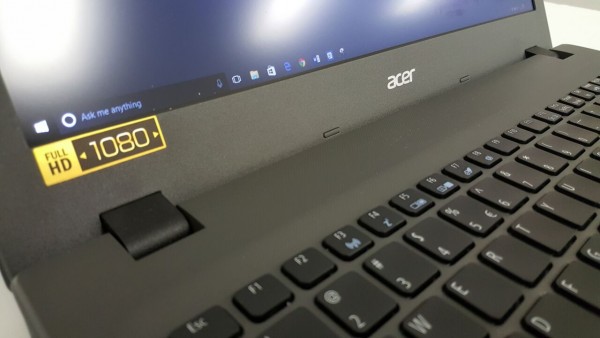 Acer included a USB 2.0 port on the right along with the charging port. It uses a typical charging brick. The right side also holds what looks like a DVD drive tray, but it's just a covering. An optional optical drive would fit here.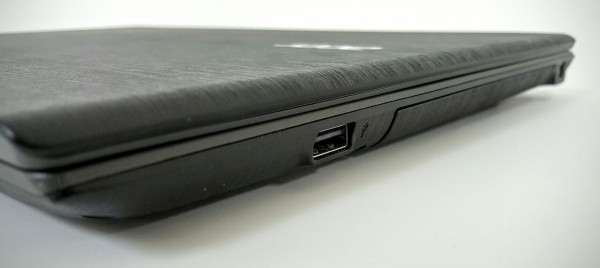 On the left side we get a headphone/mic combo port, 2 USB 3.0 ports, an HDMI port that is HDCP compatible, a Gigabit Ethernet port, 1 VGA port, the side air vent and a Kensington lock.

Along the front users will find the flash card reader and a pair of LED indicators that show when the computer's turned on or in sleep mode. A second LED shows hard drive activity. There is nothing on the back except for the hinges and vents.

Display and Sound
A full 1080p display makes for better detail while working on documents than lower resolution displays. The display looks good enough for common usage. The color displays accurately. Watching video produces good results without any tearing or hiccups, thanks to the power and dedicated graphics.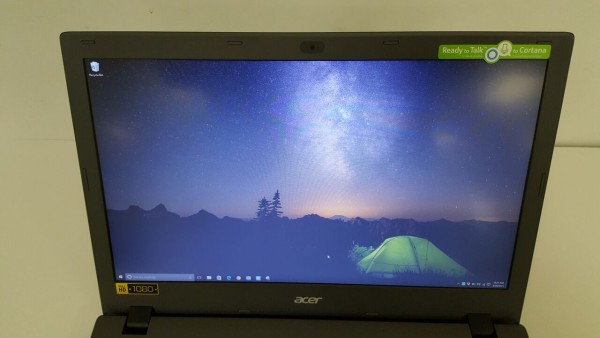 The Acer ComfyView display, as they call it, provides a wide-angle of view. Three to four people could easily see the screen clearly when used with 75% brightness or higher. The display is bright enough that business users can share the screen and friends can watch a YouTube video together easily.
Under normal light using the computer at 50%-75% works well. However, in bright light the user will need to boost levels to 75% or higher.
While the Acer E15 display isn't the best we've seen in this class, it looks good enough for basic use.
Acer's TrueHarmony technology produces loud sound that is fairly clear for laptop speakers. Audiophiles will still want to connect a high-quality set of headphones or hook up to an external stereo system. However, most users will enjoy the sound they get from the Acer E15. As laptop speaker systems go, they are better than most.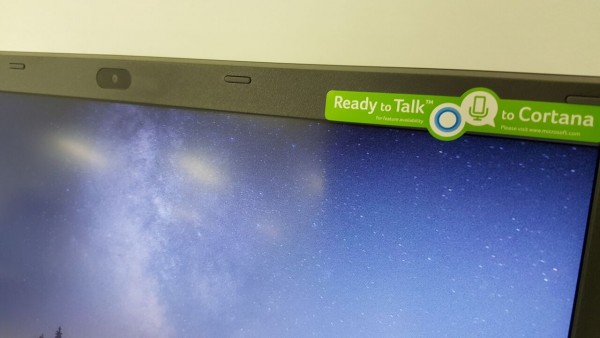 Windows 10 includes a new feature called Cortana. For Apple users, imagine Siri on your laptop. This computer comes with Cortana compatibility built-in.
Keyboard and Touchpad
Some people really like using a dedicated number pad. I'm not one of them. It forces the user to work slightly off-center of the screen, which feels awkward.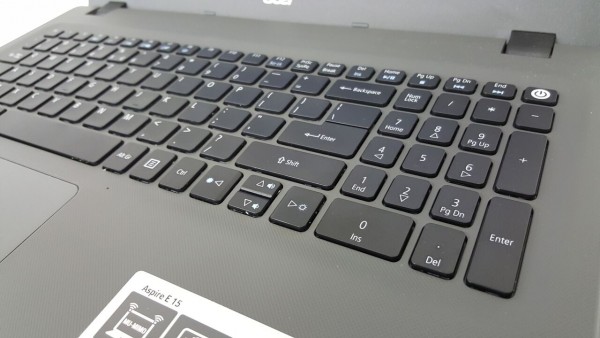 The keyboard is a bit cramped. If Acer removed the number pad on the Acer E15,  there would be plenty of room for the function keys, arrow keys and things like Delete, Home, End, Page Up and Page Down keys. With the number pad, the arrow keys get moved into a small area just below the Shift key on the right. I use them a lot, so cramping them in an awkward spot gets annoying. The design does include a dedicated right-click menu key that works like the right mouse button in apps and Windows.
The Touchpad gets annoying while typing because it gets in the way. The right-click feature that uses the lower right corner makes it awkward too. I wanted to add an external mouse after about a week. This reduces battery life, which is a problem anyway. More on that below.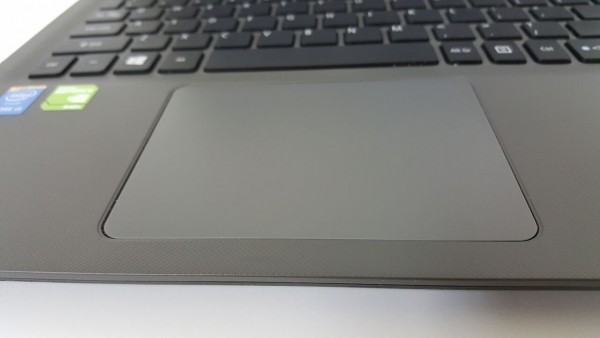 Users can get used to the off-center keyboard and touchy touchpad, but for this price, should we have to?
Performance & Battery Life
Checking the specs on the Acer E15 below, most will think the computer should run great for all but really demanding tasks. The Intel Core i5 processor, 8 GB of Ram, and NVIDI GeForce 940M dedicated graphics processor should mean the user can even play some mid-level games. However, the slow 5400rpm traditional spinning hard drive slows the system down.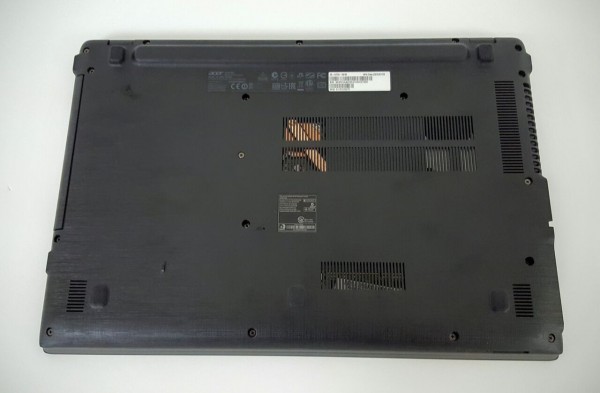 Acer promises up to 5 hours of battery life on the 2500mAh battery. I never got that much battery life. Running with Bluetooth turned off and the screen down to 25% brightness made it last close to five hours, but that forced me to use the built-in touchpad.
Most of the time the battery lasted about four hours with modest use. That's extremely low in this generation of systems with batteries that often last 6 or 8 hours even on 15-inch computers.
Is the Acer E15 Worth Buying?
The simple answer is no. We can't recommend the system for three big reasons. It runs slowly on start and during hard drive intensive tasks thanks to the 5400rpm hard drive. It's got poor battery life when compared to similarly priced computers. Keyboard snobs can find better options with much better touchpads.
Gamers who don't play the latest greatest games might enjoy using it. Entertainment-focused users might find it useful, but we think that some of the two-in-one systems available make for a better option since they are usually more portable and the battery lasts longer.
The Acer E15-573G-56RG costs $649.99 direct from Acer. We found it on Amazon for a little less at about $610.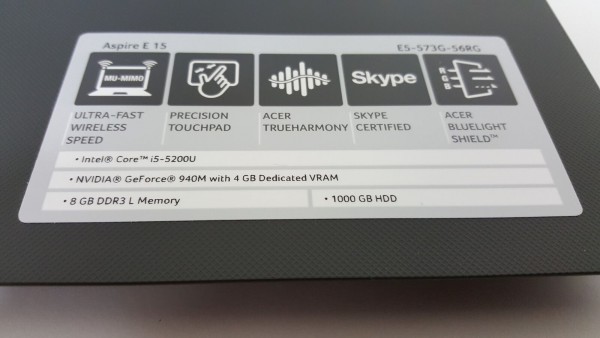 Acer E15 Tech Specs
Processor: Intel Core i5-5200U up to 2.7GHz
Operating system: Windows 10
Hard Drive: 1TB Hard Disk Drive, 5400 rpm
Display: Full HD Widescreen "ComfyView" LED-backlit Display 1920×1080 resolution 16:9 aspect ratio and BluelightShield technology to filter harmful blue light
Camera: 720p Camera
Graphics: NVIDIA GeForce 940M with 4GB of DDR3 VRAM
Keyboard: Full-size with dedicated Number pad
Precision Touchpad
4-cell 2500mAh battery with up to 5 hours
Sound: Acer TrueHarmony High-Performance Sound System
802.11 ac Wi-Fi with MU-MIMO technology
Bluetooth 4.0
Dimensions: 15.02″x 10.08″x 1.15″ (rear) and .98″ rear
Weight: 5.29lbs
Ports: 1 VGA, 1 HDMI, 2 USB 3.0, 1 USB 2.0, SD-card reader, Gigabit Ethernet, 1 mic/headphone combo jack, charging port
Advertisement