The rubberized Samsung Go Netbook first caught my attention when it was released in Europe and the unique form factor still has my attention now that it has hit the American shores. While other netbooks and small notebooks attempt to be the next cheap Macbook Air; the Samsung Go is decidedly different and that plays into its favor. Brad Linder at Liliputing recently had the opportunity to review the Samsung Go and has provided a full report on the pros and cons of Samsung's design choices.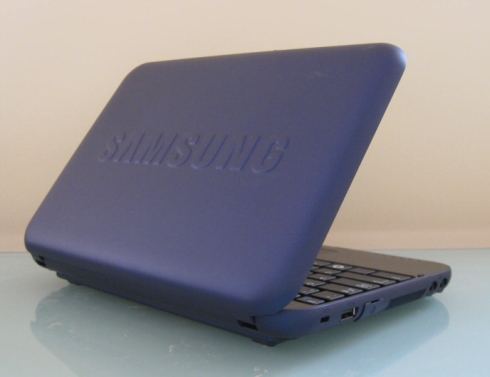 The review, complete with plenty of images, gives you a real good feel for the Samsung Go even without getting your hands on the rubberized shell. Brad's initial impressions are pretty positive:
There's something very compelling about the Go, because it's rubberized case, good keyboard and attractive screen just make the netbook feel good to use. It also does get very respectable battery life while offering performance that's on par with what you'd expect from an Intel Atom based netbook.
Two portions of the in depth review stood out to me as someone who does a lot of typing on my netbook; specifically the the portions regarding the keyboard and the screen. Brad found that despite the "correct" placement of keys he ended up typing almost 20 WPM slower on the chiclet keyboard which is helpful to remember for anyone who plans to use their netbook for fast, concentrated bursts of typing. The review notes that the difference could be due to personal preferences but if the Samsung GO is your first notebook with chiclet style keys you may want to get some hands on time with the keyboard before purchasing.
Regarding the display, it wasn't the actual screen that interested me, but rather the angle which it opened too. Brad notes that, "The screen tilts back a bit further than those found on some netbooks." Judging from the comparison I made holding my HP Mini 1000 up to the review images the extra tilt is small but a welcome addition. It's amazing how far a few extra degrees of tilt can go towards making a netbook more usable.
The model which Liliputing tested was a standard Intel Atom N270, 1GB of Ram, 160GB HDD and 10.1″ screen which, unfortunately, could be the specs for just about any netbook on the market. Ultimately Liliputing found that these standard specs, while performing well, make it hard to justify the premium price that Samsung has saddled the Go with.
For a full look at the Samsung N310 Go Netbook head over to Liliputing.
Advertisement