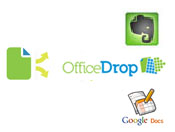 While some scanners come with built-in support for scanning to Evernote and Google Docs, such as the ScanSnap and Doxie scanners, there is a new tool called ScanDrop that will allow you to scan straight to the cloud from your existing scanner.
Not hooked yet? Did we mention it's free (and cheap on Mac) and works with a large variety of scanners?
ScanDrop is tool being offered by OfficeDrop a scanning service that allows users to mail in documents to be scanned and offers online organizing of your scanned images.
ScanDrop is available for Windows and Mac and boasts the following features.
Get your paper into Evernote, Google Docs, OfficeDrop
Easily upload scanned PDFs without opening a web browser
Works with many, many scanners and on Windows
Rotate & re-arrange pages prior to uploading
ScanDrop works with popular Fujitsu ScanSnap Scanners and many other specific models, but the OfficeDrop claims that the service will work with almost any "TWAIN" standard scanner.
The Windows version of ScanDrop is free in beta form, but the Mac version will run you $1.99 in the Mac App Store.
Advertisement