During Internet Week New York HP introduced a new cloud printing technology called ePrint.
According to HP this new solution will "… for the first time, allow people to print from any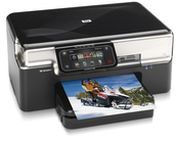 email device to any HP ePrint printer, from anywhere in the world." Going forward HP will include the technology in all HP models priced over $99. When connected to the Internet, the printer will be able to receive and print documents sent to them from remote locations.
The ePrint enabled printer will be connected directly to the Internet via your router. Each printer will have its own email address. To print a document you will email it to the printer and it will then print it for you.
The benefits of printing by sending a simple email message with a document attached are significant. Of course you could print from your computer as usual, but what if you happen to be using a version of Linux that lacks a compatible the print driver? Or what if you have a really old system and there are no drivers for your Windows 98 computer? Or what if your friend stops by to show you some pictures he took on vacation and wants to print one without installing any software? In all three situations, just email it to the printer and your HP printer will do the rest. Currently you have to transfer the document to another computer that is compatible with the printer or is running the proper driver. With HP ePrint, now all you have to do is email the document to the printer and it will print.
Another benefit of this new technology is remote printing. If a student is in class and has to print his 20 page term paper to hand into his old fashioned Luddite professor, he could send it to his Internet connected printer while in one class and have it ready to go for that quick stop in the dorm between classes.
This will make printing from mobile devices like phones and tablets very easy. One weakness of Apple's iPad, iPhone or iPod Touch is the lack of simple printing solutions. Now, with HP's ePrint technology you can just email documents from your iDevices to your HP printer and it will print. Literally, any device that has the ability to email an a document will be able to print to the new printers. You don't have to do anything to the device like install software or drivers.
There are some other interesting features in these new printers.
You can scan documents and send them to your Google Docs account from the printer
HP ePrintCenter is cloud solution hosted by HP for their customers from which you can explore new services and customize your printing experience including subscribing to content and sending content
Scheduled Delivery will let users choose to send documents over the Internet to a printer at a designated time, which could be used for scheduling an assignment to an employee or student or to remind someone of an important event at a scheduled time
Web sites can send you documents if you subscribe to them and they will be printed for you at a time that either you or the service chooses
HP and Google are partnering with one another in this new service. As part of the announcement Sundar Pichai, Vice President of Product Management at Google, shared how they plan to interface with the new HP printers. Google has released the Android OS and is going to introduce Chrome OS this year. With these printers Google will not have to deal with print drivers. Also, Google's cloud services like Docs, Photos, Calendar, etc will be accessible from the HP printers. This sounds a lot like what Google themselves announced a while back with their Google Labs "Cloud Print" initiative. There was no word whether ePrint will replace "Cloud Print" or if it is in addition to "Cloud Print".
With HP's new cloud enabled printing the idea is as HP says, "… if you can email it, you can print it."
Below is the stream of the announcement from HP at the IWNY conference.
Some of the specific printers HP announced are as follows with expected ship date and cost:
HP Photosmart Premium e-All-in-One (September 2010 for $199)
top-of-the-line printer
wireless access to the web via Wi-Fi
will have advanced print apps such as Fandango and Coupons.com
has 4.3-inch HP TouchSmart screen
automatic two-sided printing
available worldwide in September for $199.
HP Photosmart Plus e-All-in-One (August 2010 for $149)
produces lab-quality photos, everyday documents and creative projects via the 3.5-inch HP TouchSmart screen
print web content including coupons, recipes, quick forms, greeting cards, HP Games, crafts and news without a PC when connected via your hub
HP Photosmart e-All-in-One (Late June for $99)
quickly print web content using the 2.4-inch HP TouchSmart screen
create photo projects using individual inks
auto-engaging photo tray
HP Photosmart Premium Fax e-All-in-One (September 2010 for $299)
fax, scan and copy using the automatic document feeder
print photos and web content through the touchscreen interface
wired and wireless networking
One other feature is a new Android app called HP iPrint Photo which will allow a user to print directly to their HP inkjet printer if it is connected to a network via Wi-Fi or Ethernet. It is available now for free in the Android App store. There is already a version for other mobile operating systems like Symbian, Windows Mobile, and iPhone OS devices. A Snapfish version will be available later this summer.
If you happen to be at the IWNY conference in New York City this week, you can see all of the new HP products in person.
Advertisement