If you missed it, see Why I love Evernote (Part 1) Cross-Platform Availability
Continuing my series on Evernote, we'll be looking at using Evernote as a digital filing cabinet.
What makes Evernote perfect as a digital filing cabinet is that digital information storage has a lot of flexibility over the old school real life filing cabinet. You might be able to sort papers into a real filing cabinet, but with Evernote you can do that and so much more. The foundation of this flexibility comes from the variety of note types that one has to choose from. Evernote supports the following types of notes: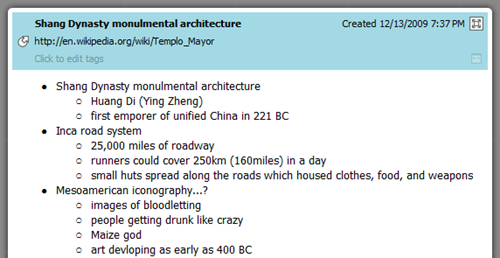 Text note creation will be very familiar to anyone who has used a simple word processor. Just hit the New Note (ctrl+N) button and you are ready to start typing. The majority of my notes are taken as text notes. When I'm in class I use a simple bullet list to keep track of lectures. When I'm done, all of the text that I've written becomes searchable, so when I got to study I can quickly find all of the notes I've taken on a specific topic. Keyboard shortcuts are really handy; the ones that I use most frequently are ctrl+shift+B to start a new bulleted list and ctrl+M to indent into a new subsection. If you don't want to retype documents that are already saved on your computer, you can drag files like PDFs or Word files into an Evernote note and then title/tag/categorize them to organize them with the rest of your notes.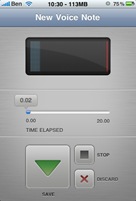 Voice notes are about as simple as they sound and can be created on your mobile device thanks to Evernote's cross-platform availability. Hit the record button and record yourself talking or perhaps a lecture or a meeting. Your voice note will sync to your Evernote account (just like all other note types) and become available to listen to when you need it from any device that you are running Evernote on (even from the web interface.) And like all Evernote notes, you can title and tag notes to make them easy to find later (Evernote will even record geographically where the note was taken if you have an appropriately equipped phone)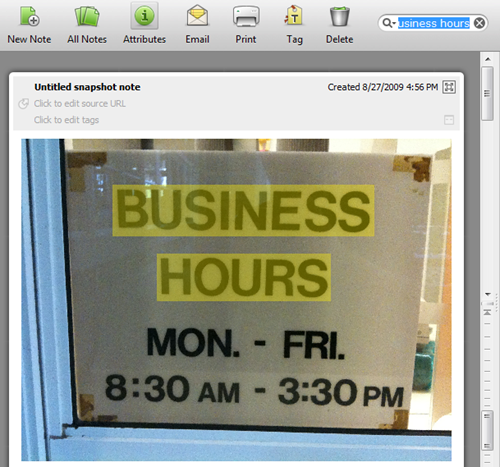 Image notes are probably my favorite type because they are so handy. Evernote employs some great visual text recognition which means you can snap an image that has some sort of text in it and Evernote will scan the image for text and make that text searchable. One of the uses that I find most applicable for image notes is taking pictures of informational posters and hour placards at businesses. I frequently find myself at the post office and to be sure I know what times that the post office is open, I merely snapped a picture of the hours sign on the door — instead of taking the time to write it down somewhere. Now I can simply search for business hours" in Evernote and the image is right there to provide me with all of the info that I need. You can create image notes by dragging images into Evernote on your desktop or by taking a snapshot with your phone and the Evernote application.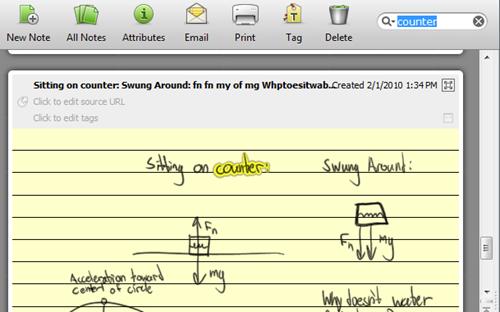 Evernote applies equally great text recognition to ink notes as well. As you can see above, I searched for counter" and Evernote recognized that word in my hand-written notes. If you like to take handwritten notes, you'd be hard pressed to find a better combination than a tablet PC and Evernote. While I take most of my lecture notes in typed text (I type faster than I write), having the flexibility to take hand written notes is great for classes like physics where diagrams are frequent, and lots of other situations as well. Stay tuned for some additional coverage on what Evernote will let you do with ink, coming up in the third installment of this series.
Advertisement