The perfect gift for your iPad fan or for someone who's also getting an iPad this holiday season could be a case. This is a very personal kind of thing as most iPad users have a particular style of case that they enjoy. So we give you a recommendations in a few different styles, from a slim silicon skin case to book style folio cases, and a case useful for carrying more than just the iPad. The last two are unique cases for special circumstances.
One case that is conspicuously absent from this guide is the Apple iPad Case. That is not a mistake or oversight. Our review of the case was less than positive. In fact after ordering it when we first purchased our ipad, we returned it as soon as possible preferring at first a netbook case over the horrible Apple case. Since then we have found some wonderful cases and here are some of the best. Read on so you don't make the same mistake we made with Apple's case.
Thanks for checking out the Notebooks.com Gift Guide 2010 series. We want you to have a great holiday season so we have pulled together a collection of gift guides that make it easier to shop for everyone you know. These gifts have been hand picked by the staff at Notebooks.com and have been deemed worthy of giving to someone you care about.
If you only want a small protective skin to keep the iPad from getting scratched and dinged for use around the house or at work, then a good silicone skin might be the best bet. The colorful iSkin Duo cases are just that. The iSkin Duo has a unique feature in that it not only protects the edges and back, as most iPad silicone skins do, but it adds a frame of black covering around the front screen. The only thing exposed is the display itself. Also, if you use the Apple iPad Dock, this skin is one of the few cases that does not have to be removed to actually use the dock. Finally, the company claims it is made of a material free of harmful chemicals that also resists bacteria. If so, it might also be a more healthy case. We had no way of testing that without sending off to some kind of CSI-like lab. But we do know it was comfortable to use and easy to install. The only thing we didn't like was the price. But all iPad cases are about $20 too much. So with that in mind, this is not out of sight. The good news is the clear case shows up at Amazon for only $35. And if you search Amazon you can find the others for similar deals.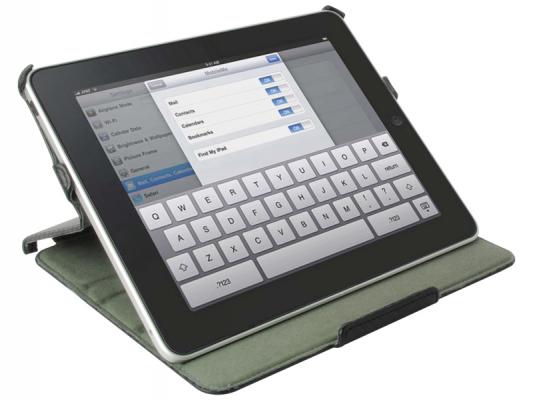 We recently reviewed this folio case/stand combination and declared it the best of class for folio cases. What makes it so special is that it is a good combination of form and function plus fashion. The stand function of the case works well and is easy to transform from a case to stand. The size of the case is low profile meaning it doesn't add much bulk to the case while still protecting the iPad. Finally, it looks nice. There were only minor flaws which you can read about in our review. One of those is the horrible name. Despite the name and minor quality problems, it is our choice for the best folio case for the iPad. Below you will find our video review.
To get a deal, head over to Amazon where the sale price is a hair over $33.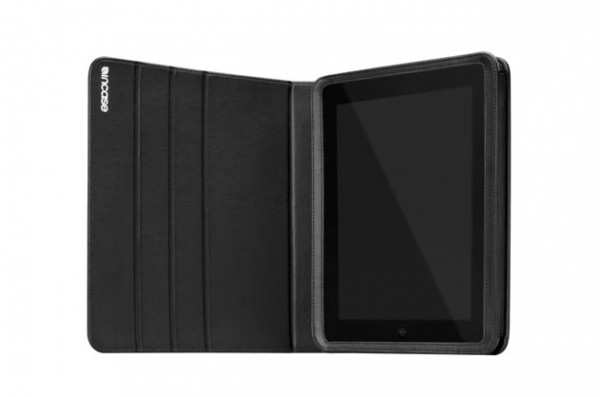 The Incase Convertible Book Jacket Case was beaten out by the above Scosche foldIO p1 iPad Case for only two reasons – it adds more weight and thickness to the iPad and it is slightly more costly. Other than that, it is every bit as good and takes the 2nd place in our list of top iPad cases. Some people might actually prefer the added bulk since it is likely to make the iPad more secure. But we prefer going with a smaller form. If you disagree then this is the perfect choice. It also has a nice elastic band to hold the cover over the iPad when not in use. Oure review of the white version can be read or seen in the video below.
We prefer darker cases so suggest you pick this black one. But aside from this black case or the white one in our review there are other colors like Charcoal, Vermillion or Deep Violet.
Folio cases are not all there is when it comes to iPad cases. This case from Waterfield Designs is a beautiful option for those who want carry more than just their iPad. The iPad Wallet Case comes in a number of beautiful colors and is a handcrafted case that has a very professional yet home made look and feel to it. The company makes some of the nicest cases for any electronic item including iPhones, laptops and more.
The iPad Wallet Case is unique because it can not only carry an iPad in it's protective zipper case, but also has a pocket specifically designed to fit the Apple Bluetooth Keyboard. Add to that a pocket for peripherals, and this is the perfect tool for someone who plans to use their iPad on the road as a laptop replacement. We love this case and the only reason we are not using it full-time is our preference for folio style cases. The good news is a user can take advantage of both a small form factor folio case like the Scosche foldIO p1 Case above and still use the Wallet Case for those extended road trips. Check out our written review or the video review below.
The basic model is $79. Buyers can get a pair of D-rings added for $5 extra. That makes it useful as a shoulder bag if you have your own strap. Straps from Waterfield Designs come in two styles for either $9 or $19 depending on whether you want a basic strap or one with extra padding. We reviewed the basic model and don't think you need any more than that.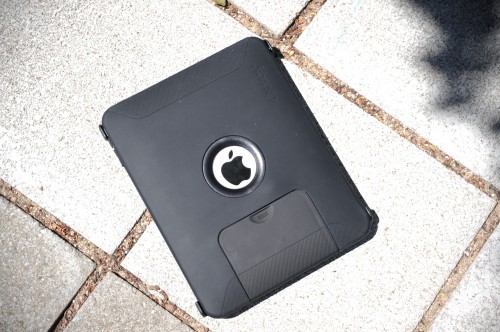 If you need more than average or typical protection because your iPad will be used in extreme environments or you just want extra peace of mind, then our Editor's Choice Otterbox iPad Defender Series Case is a good option. It is a rugged, hard shell case that protects everything from the screen to the ports and every other inch of your iPad. It is a hard shell around the entire device.
You can either read our written review or see the video review below.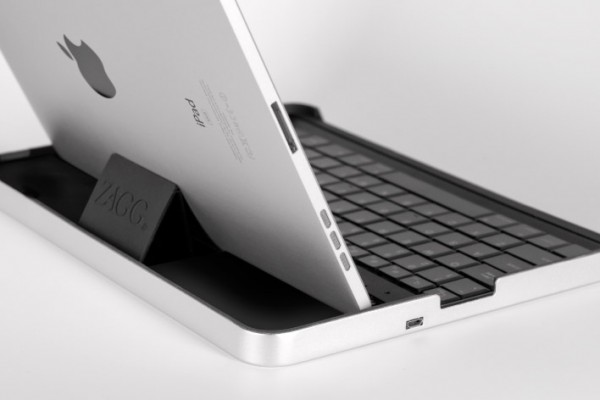 One of the cases we really wanted to like which we tested earlier this fall was one of the keyboard cases from Kensington. Unfortunately, it was just okay. The biggest problem was the keyboard itself. But of all the cases that incorporate a Bluetooth keyboard only this one from Zaggmate has a different form factor. All the rest seem to be the same case and keyboard just rebranded with different names on it or slightly different cases. This one however is a hard shell aluminum case with a keyboard integrated into it.
We have not had this one in for testing, but the price and unique form factor gave us the courage to go out on a bit of a limb and recommend it. Here is one review from an actual user who really likes the case.
The case is aluminum and the keys are plastic. The edges of the keyboard are raised to keep the screen from scratching against the keys. And the raised aluminum edge might annoy some users, but the above review said this actually forces you to type the right way helping protect against repetitive stress injuries.
While this is in our lineup, we put it here because the explosion of this style of case shows this is something wanted by users. If you are such a person this looks like a better solution than the Kensington case we tested. Or just pick up the Waterfield Designs case above and the Apple Bluetooth Keyboard.
Advertisement