The Apple iPad is one of the most wished for technology gifts this holiday season and you'll probably be able to get a decent deal on one. But a good deal doesn't necessarily make the Apple a smart buy. The Apple iPad is a fantastic piece of technology and they're selling faster than any new gadget ever has. Apple's $499 tablet may be hard to resist, but here are a few reasons why you should hold off on buying one on Black Friday.
If your loved one wants nothing else than an iPad, go ahead and buy one. But you should be aware of the below concerns. If you are set on buying an iPad on Black Friday, visit our Apple Black Friday page to make sure you get a good deal.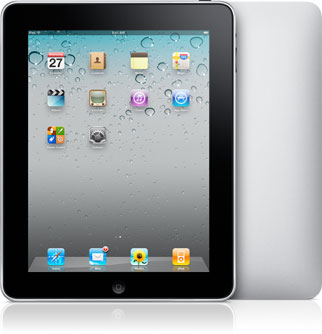 1. First Generation iPad
The Apple iPad is one of our favorite products of the year, but it's still a first generation device. Apple usually implements significant improvements in second generations of its products. Need proof? Just take a look at the difference between the original iPhone and the iPhone 3G, which was introduced a year later. Take a look at the old Apple TV versus the one that was just launched at half the price. The same goes for the sluggish first generation Apple MacBook Air. The new MacBook Air is arguably the best consumer laptop on the market and it costs half the price of the original.
2. No Front Facing Camera
Every mobile iOS4 device is now capable of making video calls to other Apple devices. That's every mobile device except for the iPad. With Facetime, you can quickly and easily connect to friends and family. A lot of iPhone, iPod Touch and MacBook users really enjoy this experience. Since the iPad doesn't have a front-facing camera, or a rear-facing one for that matter, which means Facetime is a no go.
3. A New iPad is Right Around the Corner
Apple will most likely announce its next iPad early next year and start selling it by March or April. It will likely be lighter, faster, thinner and run for a longer period of time on a single charge. Apple may bump the base 16GB of storage capacity up to 32GB and make other improvements.
4. The iPad is an Expensive Gift
As much as we like the iPad, the $499 to $829 price tag exceeds most people's gift budgets. When compared to other Apple gear, these prices are really up there. A new Apple TV is just $99. The iPhone 4 is only $199 (with an AT&T contract) and the iPod Touch is just $229. If you do have a bunch of cash to spend, the new MacBook Air is arguably a better value, especially if your loved one has an old clunky laptop.
5. The Original iPad is Near its End of Life
The original iPad is nearing its end of life. At the tail end of their life cycles, gadgets can be found on sale and other signs will pop up that it's time for them to be retired. In the case of the iPad, we're starting to see stores discount the iPad. We're even seeing them pop up at unauthorized retailers like TJ Maxx for $399. That's a far cry from the iPad buying experience just a few months ago.
Advertisement