While the crazy thin MacBook Air and Lenovo U260 have been getting a lot of attention, there are many users who are looking for a much larger computing experience; one that replaces their desktop instead of something that can go everywhere they go. The Sony VAIO EC series is one of these notebooks. With a 17.3″ display and a weight of close to 8 pounds you won't be putting this in your backpack every day, but if you want a computer to keep by the couch or on a desk the VAIO EC is worth a look.
Sony VAIO EC Series (VPCEC3BFX/BJ) Quick Specs:
The VAIO EC series can be configured with up to an Intel Core i5-580M processor, or on a budget configured like our model with a dual core Intel Pentium P6100 2.0GHx processor. Our model also comes with 4GB DDR3 RAM, a 320GB hard drive, 512MB ATI Mobility Radeon HD 5740GPU, Blu-Ray Drive and a Motion Eye Webcam. This notebook has a 17.3″ display with a lovely 1600 x 900 resolution that lets you do more on screen.
Our review unit retails for $839. If you order right now you can save up to $848 in upgrades including a free Adobe Bundle.
Who is this Notebook For?
This notebook is a good fit for home or school users who don't need a machine to take to class on an everyday basis, but are simply looking for something to take from room to room or around the dorm. The model we reviewed has a dual core Pentium processor which isn't the latest and greatest, but when paired with the dedicated ATI graphics allows us to edit some photos and short video clips using Microsoft Live Essentials, but it's not suited for heavy gaming or lots of video work — unless you upgrade to a faster processor.
Build and Design:
The VAIO EC series notebook, like many of the Sony laptops we have had time with shows an obvious thought for how the final product will look. Like the Samsung RF510 we recently reviewed the keyboard area is a slightly different color and texture than the palmrest which gives the notebook a nice upscale look. The build quality of the EC series from Sony is also pretty good. While it isn't a business class notebook we were happy to find a very strong hinge that keeps the screen where you position it and keeps it closed when carrying it, something that bothered us in our first look at the Lenovo Z360.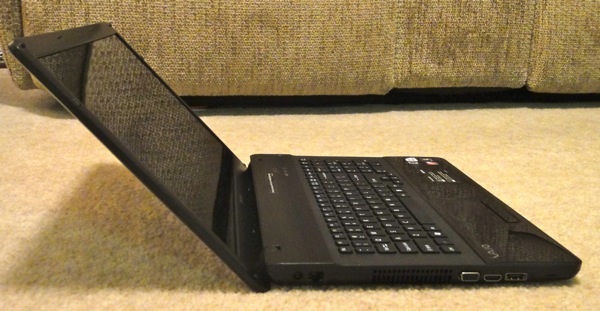 Screen:
The screen of the VAIO EC is massive! At 17.3″ and offering a 1600 x 900 resolution we didn't even need to plug in our external monitor to get work done while comparing web pages and documents side to side. The screen is glossy like you will find on most consumer notebooks which means you will need to adjust the display to find a good viewing angle if you are near direct light. The display does get sufficiently bright and in the lowest setting is still usable if you need to conserve battery power.
Side to side viewing angles were pretty good, enough so that you could share a movie from the included Blu-Ray drive with 2-3 friends and wouldn't have to pick favorites, but the up and down viewing angles were not very good. Thankfully the display tilts back pretty far, so you are able to find an angle that works, but if you are looking down at the notebook from a standing position you will notice that the screen is a bit washed out.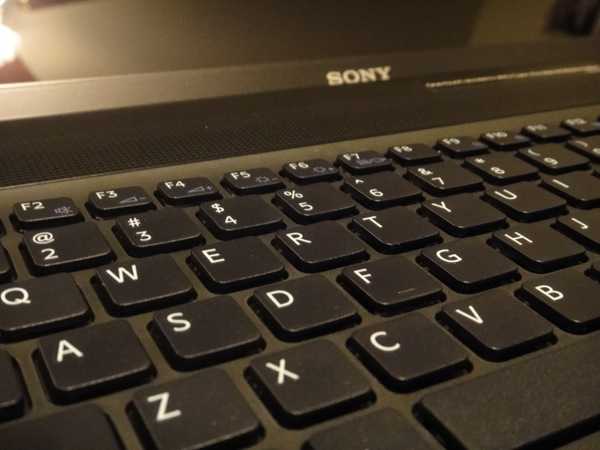 Mouse and Keyboard:
The keyboard on the EC offers a very desirable typing experience with good feedback on an island style keyboard. The keys do have more travel than some keyboards, meaning that you have to push them down a bit further, but it doesn't detract from the overall typing experience. Thanks to the button placement and a very nice spacing we were able to type almost as fast as we do on keyboards from Lenovo and on the MacBook Air. The keyboard also offers a dedicated number pad which is great if you need to enter numbers into any document on a regular basis.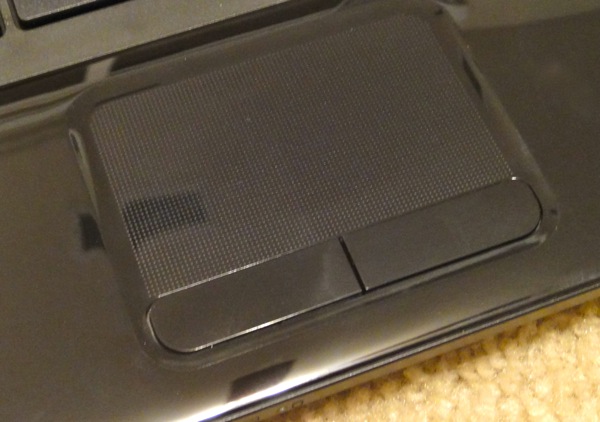 Unfortunately the mouse experience isn't nearly as good. There's no reason that a mouse shouldn't allow you to scroll using two fingers these days. The mousepad is pretty accurate and didn't fail during extended use, but the need to search for a scrollbar instead of scrolling wherever is annoying to say the least. If you plan to get a laptop this big you'll probably use it at a desk, so we recommend that you pick up an external mouse.
Webcam:
The built in webcam on the VAIO EC did a decent job, allowing us to record a short video message in a decently lit room and comes with a few extra tools like tracking which will detect motion and begin recording, the ability to track your face for several in camera functions and more.
Processor and Performance:
The VAIO EC series laptop we reviewed only had a dual core Intel Pentium processor, but it was able to keep up with multitasking. During our review we had Chrome open with 3 tabs, Evernote, Norton and played music in Windows Media player without a stutter. We did notice that it took a couple of seconds longer than we expected to get some programs up and running, but for your average home user the dual core processor and ATI graphics will offer enough power.
Playing back High Def content didn't give the EC any trouble, even with other programs open int he background. We tested out the 1080P trailer for Big Buck Bunny and found that there wasn't any stuttering or lag.
Heat and Noise:
This notebook did heat up a bit faster than we expected, but thankfully the heat vents out pretty well. The left side of the notebook, specifically the vent, does get warm and we could detect a slight rise in temperature on the palmrest. The temperature increase wasn't enough to make use uncomfortable, but it did increase enough on the palmrest that we noticed it and our palms did sweat.  The bottom of the notebook on the other hand, was very cool even after an hour of use.
Sound:
The sound on our review unit was very good providing enough volume to fill a room and spill over into the next without distorting. There was of course not much bass, but we were able to pick out various samples in Girl Talk's newest mix which samples numerous artists, weaving song into song. The speakers were definitely a standout feature.
Battery:
The battery life on this notebook is just over 2 hours with the screen set at 2/3rds brightness, WiFi web surfing with no peripherals attached. That's decent given the size of the screen and discrete graphics. Since you will likely be near an outlet while you use this notebook it isn't as bad as a 2 hour battery life on a 15.6″ or smaller notebook. If you dim the screen all the way you'll see slightly longer battery life.
Connectivity: The Sony VAIO EC series notebooks have a wide array of ports, thanks in part to the large area to put the ports and connections.

Left (left to right):Power, Ethernet, Vent, VGA, HDMI, eSATA/USB 2.0, Expresscard 34

Right (left to right): USB 2.0, USB 2.0, USB 2.0, Blu-Ray Drive (DVD Burner), Kensington Lock

Front (left to right): Memory Stick Reader SD card reader, Wireless switch, Headphone, Microphone

Software:
While many laptops these days come loaded with crapware the VAIO EC we reviewed was a pleasant surprise. Yes, it did come with a Norton Antivirus trial that wouldn't leave us alone until we registered or uninstalled it, but the notebook already came with most of my favorite programs installed such as Chrome, Evernote and Skype. This saved me about 15 minutes of setup and provided a much better out of the box experience — one we wish other manufacturers would take note of.
If you order right now you can score a free Adobe Bundle which will include the following apps:
Adobe Premiere Elements 8.0 – Turn your home videos into professional-looking movies complete with customized effects, transitions, soundtracks and more. Ongoing tutorials and tips & tricks help make it easy.
Adobe Photoshop Elements 8.0 – Make your photos look extraordinary, fix common problems like red eye, and easily manage and protect all your photos and video clips.
Adobe Acrobat Standard 9.0 – Create PDF documents, organize content in a single PDF file, quickly create and distribute forms, and share documents more securely.
There is also VAIO Gate, a docking bar that runs across the top of the screen and allows users fast access to applications. It's not something we found ourselves using, especially with Windows 7's better taskbar, but some users may like it. Those that don't can easily disable it.

Value:
While you will pay a bit more here for the Sony name, you do get a good user experience and a sturdy laptop. If you don't need a laptop to take with you every day and want a few flourishes that you won't find on a  Black Friday doorbuster the VAIO EC is worth a look.
Conclusion:
Assuming you plan to use the VAIO EC as a desktop replacement and are OK with hooking up an external mouse you this is a decent notebook. Even with a dual core processor it was able to handle anything we tried to do. Combined with the lovely display, capable keyboard, quality sound and nice out of the box experience and you have a large and in charge notebook for the average home user.
Pros:
Large display with a high resolution
Good keyboard
Good Sound
Good software combo for a better out of the box experience.
Cons:
Heat on the palmrest
Low battery Life
Mousepad is subpar
Sony VAIO EC (VPCEC3BFX/BJ) Detailed Specs:
| | |
| --- | --- |
| Product name | Sony VAIO VPCEC3BFX/BJ Intel Pentium Processor 17.3″ Notebook Computer |
| Operating System | Windows 7 Home Premium 64-Bit Edition |
| Processor Type | Intel Pentium Processor |
| Processor Speed | 2.0 GHz |
| Processor Model | P6100 |
| Processor Cores | Dual Core |
| Display Type | TFT Active Matrix Display |
| Display Backlight | LED Display Backlight |
| RAM | 4.0 GB RAM |
| Screen Size/Resolution | 17.3″ 1,600 x 900 |
| High Definition Capable Screen | Yes |
| Hard Drive | 320.0 GB Hard Drive |
| CD/CD-RW/DVD/DVD Recordable | Blu-Ray DVD-ROM with DVD-DL/CD-RW Combo |
| Max CD/CD-RW/DVD Speed | Not Specified By Manufacturer |
| Wireless Network | 802.11b/g/n with Bluetooth |
| Integrated WebCam/Microphone | Yes |
| RAM Shared with Video | System RAM not Shared with Video |
| Pointing Device | Touch Pad |
| Laptop Weight | 7.3 Lbs |
| USB Ports | 4 USB Ports |
| USB Port Version | USB Port Version 2.0 |
| Wired Network Interface | 10/100/1000 Gigabit Ethernet LAN |
| ExpressCard Slot | 1 ExpressCard/34 Slot |
| Other Storage/Expansion Slots | Memory Stick STD/Duo media Slot- supports magicgate functionality and Secure Digital (SD) slot. |
| Battery Type | Lithium-Ion Battery |
| RAM Expandability | Expandable to 8.0 GB RAM |
| Video Memory | 512 MB Video RAM |
| 3D Graphics Video Type | ATI Mobility Radeon HD 5470 |
| HDMI Port | Yes |
| Software Included | Microsoft Office 2010 Starter Edition-Includes |
| Other Features | Estimated battery life |
| Dimensions | 16.1(w) X 1.2(h) X 10.7(d) |
| | |
Advertisement