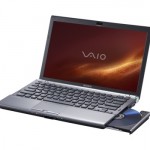 Sony introduced several notebook lines today, but the one that stands out the most is the VAIO Z Series. The Z Series has several notable features and replaces the SZ Premium line. It's a business-grade 13-inch notebook that's loaded with features that make it a smart choice for those looking for a mix of style, mobility and business.
The Sony VAIO Z Series is based on Intel's new Centrino 2 platform and starts at $1700.
It feautres a carbon fiber lid and will be available in several configurations and can be configured to order. On the top end, customers can choose dual 64GB solid state drives or a single 320GB hard drive. All versions get integrated Sprint EVDO Rev.A wireless cards. The antenna is now internal wheras the SZ series had an external antenna that was a bit of an eyesore.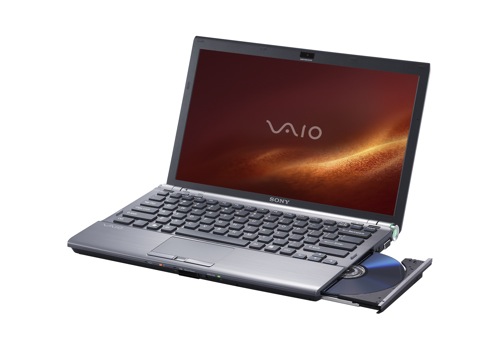 The Z series has a high-resolution 13.1-inch display with a 16:9 aspect ration, making it possible to view two documents or We pages side by side. The 16:9 aspect ration is also ideally suited for viewing movies as it gets rid of the black bars normally seen on notebooks when viewing widescreen movies. The display has a matte finish, making it more suitable for use in bright lighting conditions than the SZ series.
The Z series will ship with Windows Vista installed, and an XP downgrade DVD that contains all necessary drivers in the box.
Sony's hybrid graphics are more useful than ever now that you can switch between dedicated graphics for superior performance or integrated graphics to conserve your battery on the fly. On previous systems switching required a restart and was sometimes more of a hassle and meant many SZ users, including myself, rarely used the feature.
The VAIO Z weighs in at 3.4 pounds and ships with a smaller AC adapter than the SZ series, which was seriously oversized for such as small notebook.
The Sony VAIO Z has an advertised six-hour battery run time with its standard battery. An extended battery is available that's rated to last for nine hours.
The VAIO Z series notebook is available at Sony's online store

Advertisement