With all the attention being shown to the MacBook Air you'd almost think no other manufacturer makes a 13″ notebook with a  good keyboard and decent battery life. Well, if our first impressions hold up the IdeaPad Z360 will meet that criteria with ease; even if it can't touch the Air's thinness or unibody construction.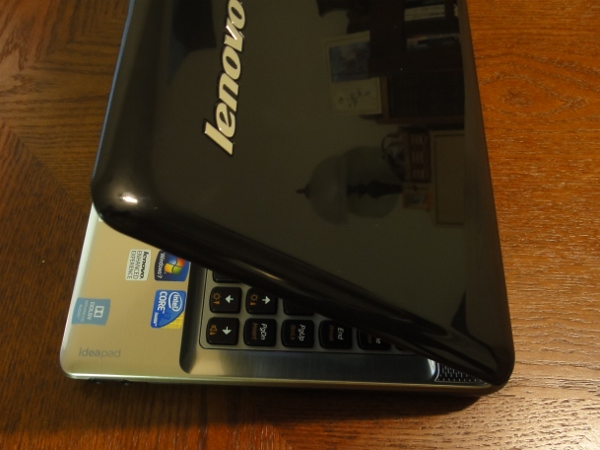 The IdeaPad Z360 is an Intel Core i3 powered notebook from Lenovo that packs in 3GB DDR3 RAM and a 500GB hard drive as well as embedded WiMAx for 4G mobile connections from Clear. In addition to these features it has a webcam that uses Lenvo's Veriface for loggign in, Dolby Advanced Audio, a OneKey theater button for instant optimization when watching movies and SmartFan Noise Control which can silence the fan with the push of a button.
Our first impressions of the IdeaPad Z360 are very positive. The highlight is the keyboard, which has perfect feedback spacing and feel. If only the right shift key wasn't shortened up a bit it would leave nothing to be desired. The Mousepad, while accurate so far, doesn't support mutlitouch gestures like two finger scroll which is disappointing.
The screen provides a bright display with good viewing angle sin our few days of testing. We'll dive in deeper as we review the IdeaPad Z360. Additionally the screen is glossy, but handled well in a car even with bright sunlight outside.
The case on the Z360 is plastic, but the is a metallic finish on the palmrest and keyboard area which looks nice and has a good tactile feel. Audio was also acceptable in our limited testing, filling up a quiet room with ease.
As far as battery life goes we haven't broken out the stopwatch yet, but we were able to get 4-5 hours without trying to conserve battery life in any manner which is generally a good sign.
The IdeaPad Z360 retails for $849 as configured for our review unit, but as we write this it is on sale for $749, and we have seen it as low as $649. Stay tuned for our full IdeaPad Z360 review coming soon.
Lenovo IdeaPad z360 Detailed Specs:
Intel® Core™ i3-370M Processor ( 2.40GHz 1066MHz 3MB )
Genuine Windows 7 Home Premium 32
Intel HD Graphics
3 GB PC3-8500 DDR3 SDRAM 1066MHz
13.3″ HD LED Glare 1366×768
Industry Standard Touchpad
500GB 5400
DVD Recordable (Dual Layer)
6 Cell Lithium-Ion
Intel Centrino Advanced-N + WiMAX 6250
Bluetooth Version 2.1 + EDR
One Year Warranty
Advertisement