The much-anticipated Samsung Galaxy Tab is an Android 2.2 tablet with 3G capability with a 7-inch touch screen display, a 1GHz processor and at least 16GB of storage. We've already learned that Verizon would be selling one for $599 with a month-to-month contract costing as little as $20 a month for a 1GB data plan. But now we've discovered that Sprint is going to sell one for $399 with a 2 year contract and Best Buy will offer a Wi-Fi only version for the same price as the cheapest Apple iPad at $499. The iPad doesn't have the cameras nor can it play flash content.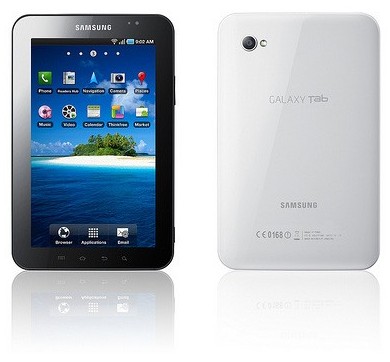 The Sprint data plans will cost either $29.99 for 2GB of data per month or $59.99 for 5GB. Added to the cheapest out-the-door cost so far of $400, that makes a Sprint version $1,120 total after the two-year commitment. Add another $480 for the 5GB plan for a total of $1,600. Compared to the Verizon cost, if you paid for the monthly bill over 24 months it would cost $1,080. Breaking it down into cost per GB it looks like this:
Verizon $480 + $600 = $1,080
Sprint $360 + $400 = $760
Sprint's is cheaper per GB a month but that is artificial since the minimum plan is 2GB.
Sprint's will be available on November 14 while Verizon will beat them out the door by three days on the 11th. We don't have a date for when Best Buy's Samsung Galaxy Tab will go on sale. The information is based on leaked ads which do not have a date, but look very authentic. They will most likely be going out, possibly in newspapers soon, so it should not be far off these other two dates.
Best Buy's Wi-Fi only version looks more appealing for the average user who doesn't need or want the extra expense of a wireless account to access the Internet.
Advertisement