Are you tired of locking your notebook with 'Windows Key + L' and typing your password every time you need to get back in? Are you working in an un-secure environment and want to add more security to your notebook? Perhaps you think your roommate is getting into your computer while you are out. Whatever the reason, Predator may be just what you're looking for. Predator is a free, easy tool to lock and unlock your computer with a USB drive.
Predator will let you lock and unlock your Windows PC with a regular USB drive. Working with Predator is very easy; after installing it and matching Predator with a USB drive you can lock the computer by removing it. Not only will your computer lock; but the screen will go black and the mouse and keyboard will be disabled until the drive is plugged back in.  Predator allows you to control multiple PCs with one USB stick and one computer with multiple USB drives.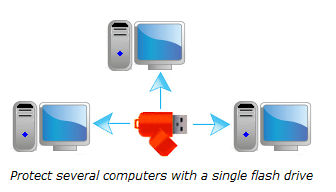 Some of Predator features are below:
Predator can replicate this log on your Twitter account, allowing you to

remotely monitor all access-control activity on your PC

.

Predator frequently changes the security codes recorded on your USB drive. If an intruder manages to copy your stick, this copy will not work because the codes on your own stick will have changed in the meantime.

Predator records all security-related events in a log file: start, alarms, stop. By reading this log, you will know if intruders have tried to use your computer while you have been away.

Predator disables the Windows task manager when you unplug the USB drive. So Ctrl-Alt-Del will be also disabled.

Predator lets you regain control of your computer if you lose your stick: when you start the software for the first time, you set a password that will unlock your session if your USB drive is not available.

Predator can sound an audible alarm if somebody enters an invalid password.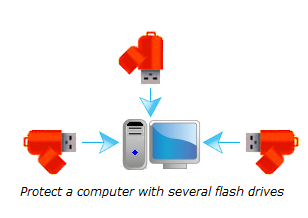 How to Install the Predator:
Step 1: Download the predator (installPredator.zip).

Step 2: Extract the zip file into any folder.

Step 3: After extract start installPredator.exe. Select the default path 'C:Program FilesPredator2' when prompted for install folder.

Don't install Predator on your USB drive /stick. If you install it on USB drive this software won't work.
How to run or initialize USB drive:
Step 1: The installer program will automatically start predator. If it doesn't start you can start it manually by selecting the program from the start menu.
Step 2: A window will pop asking you to enter a password and prepare the USB drive. This window will also ask you to enter the USB drive on your computer.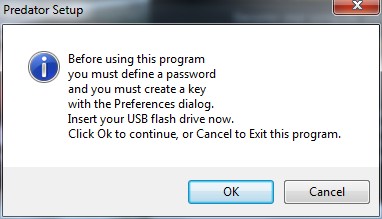 Step 3: Insert the USB drive on your window pc and click on OK button.
Step 4: A Preference setting window will pop up.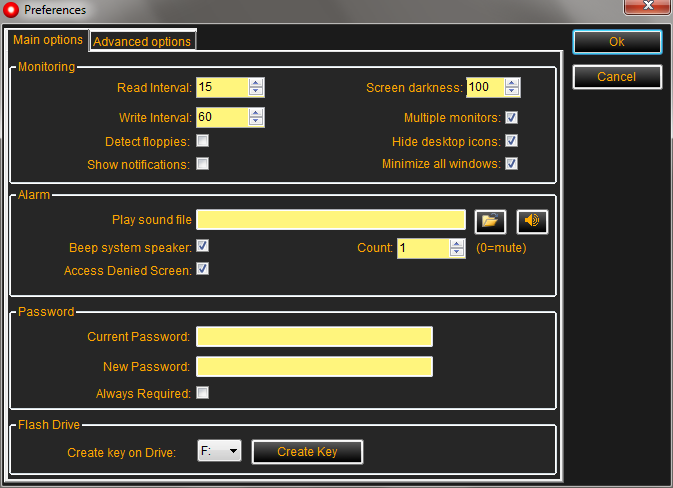 Step 5: Select the setting you want and type the password of your choice. This password will be used to unlock your session if you lose the USB key.
Step 6: Check that the drive letter displayed under "USB key drive" matches your flash drive or choose the correct letter from the dropdown list.
Step 7: Click the create button and press OK and you are done.
How to start Predator: Click the Predator icon on your desktop or start from the windows program menu. Please see the user's guide for more detail.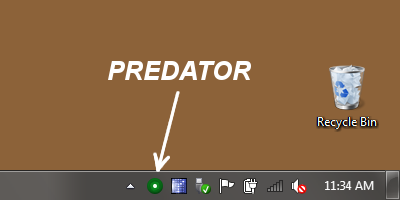 Advertisement