Windows 7 is a pretty flexible operating system and I am not just talking about the 6 editions of the operating system that are available with various features and capabilities, but the ability to scale and perform on a variety of hardware configurations. One of the major improvements to the Windows Desktop is the Windows Aero Glass user experience which introduces elegant desktop effects and visual cues that making using Windows more productive and fun. Of course, not all computers are able to take advantage of Aero Glass even though some might be able to run it, it can actually have an adverse effect on your system performance.
The best recommendation in such scenarios is to disable the Windows Aero Glass theme. Doing this is very simple, just right click your Desktop then click Personalize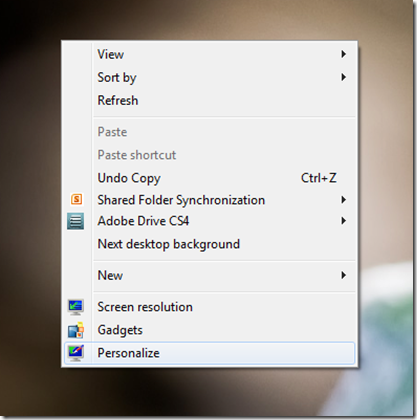 This will open the Personalize Control Panel item which includes a variety of tools and options for customizing your Windows user experience.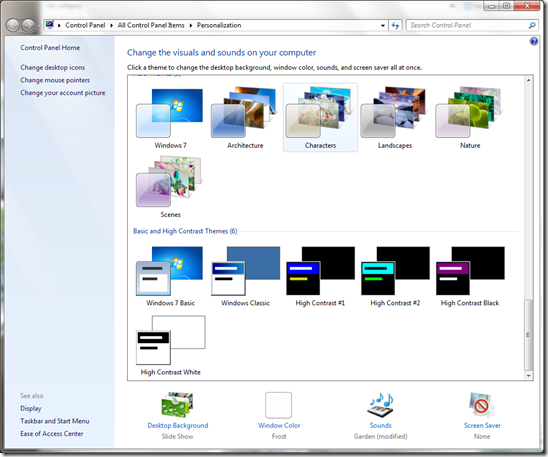 Windows 7 includes three types of themes: Aero Glass, Basic and High Contrast themes. Aero Glass is the premier theme that includes effects such as semi-transparency of window border along with the ability to utilize desktop effects such as Aero Peek, Snaps, Taskbar Thumbnail Previews and others such as Flip 3D. Aero Glass requires that you have a GPU (graphical processing unit otherwise known as your video card) powerful enough to compose the desktop. To run Aero Glass, you need a video card that supports DirectX 9 graphics device with WDDM 1.0 or higher driver.
If you don't meet the requirements to run Aero Glass, it doesn't necessarily mean you cannot run Windows 7. Many older computers work just fine with the Windows Aero Basic theme which provides some of the features of Windows 7, but not the more visually stunning aspects such as the semi-transparency.
If your computer is capable of running Windows 7 Aero Glass, but performs slow, you can turn off some visual embellishments to improve the speed of the interface. To do this, click Start, type: Adjust the appearance and performance of Windows
Hit Enter on your keyboard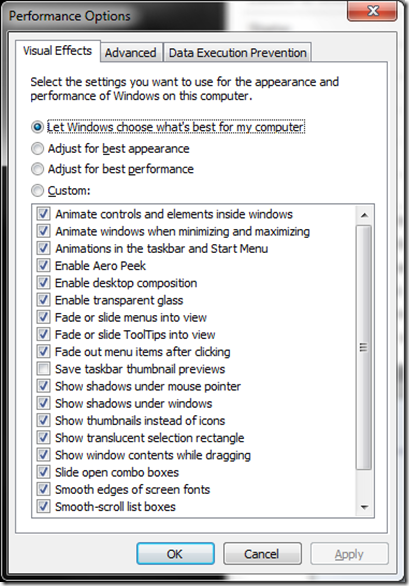 Select the Visual Effects tab
Here you will see a number of options available for you to choose from. You have Windows choose the best experience or you adjust according your hardware capabilities. You can even select the Custom option and uncheck options that can give you more speed while still enjoying the benefits of the Aero Glass user experience.
Resources
Making Windows 7 Your Own: Personalization and Themes
Advertisement