If you're looking to make Windows 7 run even faster you've come to the right place. This guide is the second installment of our Speed up Windows 7 Series and looks at changes you can make for better performance in Windows 7.
Performance Information and Tools
Introduced in Windows Vista, this menu provides a lists of your computer's Windows Experience Index base score, which indicates the performance and overall capability of your computer's hardware. If you look under the Task pane in Performance Information and Tools, you will see Tasks where you can make further adjustments to improve the performance of your computer.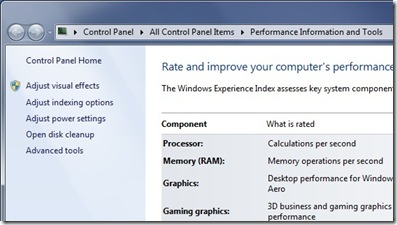 Performance Information and Tools options
Visual Effects – Back in November I discussed some of the theming capabilities built into Windows 7. Some of these themes are designed for PC's with limited capabilities. Microsoft calls these Basic and High Contrast themes. To access them, right-click your desktop, click Personalize.
Windows Aero Basic For computers that cannot support the minimum graphics requirements of Windows Aero Glass. Aero Basic features the standard elements of the Windows 7 interface except for the translucent effects and animations. Instead, areas such as the Taskbar, window borders display a blue/grayish color scheme. Other unavailable features include the inability to choose a Window Color, see and interact with thumbnail previews, Alt-Tab Preview, Flip 3D and Aero Peek.
Windows Classic – First introduced with Windows 95, this experience was the flagship theme for Windows for many years and was replaced by Windows XP's Luna in 2001 but is still included in Windows for people who are not quite ready for the changes in Windows 7. Microsoft has made some changes to Windows Classic in Windows 7 where menus are concerned. The standard look and feel still exist, but Microsoft has decided to remove the Standard Classic Menu that was available as an option in both Windows XP and Vista.
Personally, I agree with this, since the new Start menu offers so many benefits such as Instant Search, easier access to programs, better control (no cascading/off screen sub menus), ability to search HomeGroups, Public directories and detailed results when presented. The new Start menu also introduces support for features unique to Windows 7 such as Jump List providing access to task and recently accessed files associated with a program.
High Contrast themes – If you have difficulty reading or viewing your screen, Windows has for years included high-contrast color schemes that heightens the color contrast of some text and images on your computer, making those items more distinct and easier to identify.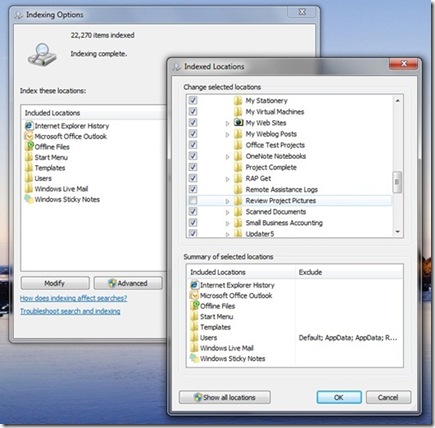 Indexing Options
Indexing Options – Instant Search makes it quick and easy to find personal files and folders you commonly use. To improve the performance of your search experience, make sure the Index is not set to search the entire computer, searching areas such as System and Program Files directory can greatly slow down the performance of your searches and provide less relevant results. You can instead add folders you often search or store files.
Power Settings – In December, we talked about some of the energy efficiency improvements built into Windows 7 that allow you be more productive on the go and also provide better performance in certain scenarios.
Windows 7 extends battery life for your mobile PC, helping you be productive longer while still getting great performance. Power-saving enhancements include increasing the idle time for the processor, automatically dimming the display, and more power-efficient playback for DVDs. With Windows 7, you're also kept better-informed about battery status.
Get Idle and Stay Idle Longer. An idle processor reduces battery life. Windows 7 reduces background activities and supports the trigger-starting of system services, so your computer's processor can be in an idle state more often.
Adaptive Display Brightness. The display on a typical mobile PC consumes more battery power than any other part of the computer. Windows 7 automatically reduces display brightness after a period of inactivity, much like cell phones do today. And Windows 7 intelligently adapts to your activity. For example, if the screen dims after 30 seconds and you immediately move the mouse to brighten the display, Windows 7 will wait 60 seconds before dimming the display again. Learn more here
This is the second part of our look at how to speed up your Windows 7 computer. You can view other guides by checking out our Speed up Windows 7 Series.
Advertisement