Last month Microsoft launched the innovative next generation version of its popular browser, Internet Explorer 9. One of the major highlights is the app centric experience IE 9 introduces. This makes it easy to access your favorite websites in Windows much easier while also providing unique co-branded experiences. The Windows Live Team are updating their various web properties and services to take advantage of all of Internet Explorer 9's cool features.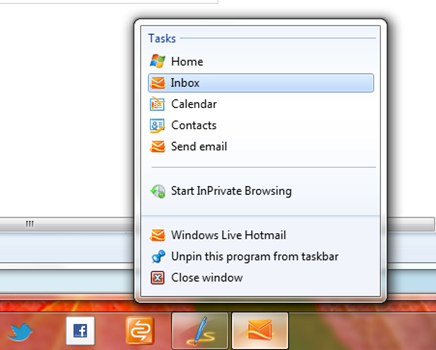 Windows Live Hotmail wave 4 now lets you not only pin to the Taskbar, but quickly access aspects of the service through a Windows 7 Jumplist. Tasks you can access include your Windows Live Home Page, Inbox, Calendar, Contacts and Send Mail.
Just as a reminder, if you don't know how to create a pin icon, simply hold down your left mouse button the icon for the URL in the Address Bar. Then drag it to the Windows 7 Taskbar.

…and release, voila! Its that simple

When you click the shortcut, you will now see a lovely Co-branded Windows Live Hotmail wave 4 experience: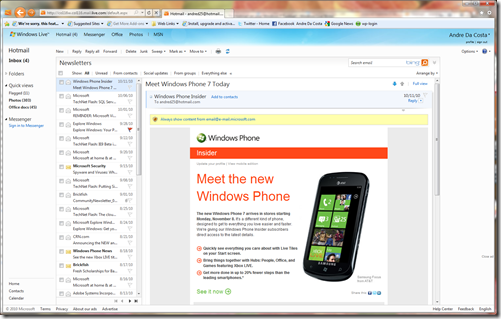 Windows Live Hotmail and Internet Explorer 9 integration
Resources
Download Internet Explorer 9 here
Enjoying the Beauty of the Web with Internet Explorer 9
Advertisement