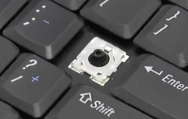 After a few years it's easy for a laptop or notebook to lose the function of one of its keys. The problem could be a broken key or as simple as a crumb stuck underneath the key. Fixing a single broken notebook key is very straightforward and can be done in a few minutes with just a flathead screw driver.
In this video how to, Chris Dowdy of Orange Star Networks, shows you how to remove and replace a notebook key.
Before you order a replacement key, be sure to take your key off and see if it was just hampered by a stray fingernail clipping. If you need a new key call up the customer support number on the bottom of your laptop. If you have more than one key that isn't working you may need to replace the entire keyboard.
Replacing the entire keyboard is a bit more involved but still achievable. The video below shows you how to replace it on a Dell Vostro and should give you an idea of what you're in for. Before you begin you should look for instructions specific to your notebook by Googling "How to replace the keyboard on a Notebook Name?" and ordering a replacement keyboard from the manufacturer or through a third-party.
Advertisement