Air Display has long been one of the go to apps for turning your iPad into a second monitor, but up until this week that was only available for users of OSX. But this last week Avatron, makers of Air Display, announced the availability of a version of the software that works with Windows as well.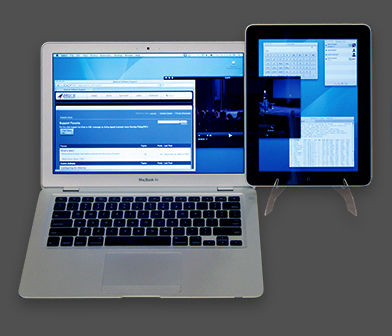 The new version is available in the app store, and is a free upgrade for users who have been using the $9.99 app with a Mac. The Windows version is compatible with Windows XP, Vista and Windows 7.
You can drag any window to the second display which provides a great space to keep a music app, TweetDeck or any other item you want to keep handy at all times.
To work your iPad and the computer need to be on the same network. This can be at work, home or the coffee shop; or if you have no network handy you can connect the iPad to your notebook with an ad-hoc network and still use it as a second display.
Here is a brief demo of the Air Display app running on a Mac.
Avatron has provided us with a review copy to check out so we'll be doing a comparison to the previously released MaxiVista for iPad which also turns your iPad into a monitor.
As we mentioned, the Windows version of the software is currently in beta and we've had issues getting it to connect to our test system, but Avatron has provided a list of troubleshooting steps which we will be trying.
Advertisement