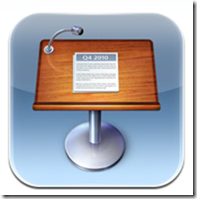 As a public speaker, I like to use visual tools to help as I communicate the concepts I teach. Because it is so portable, the iPad has the potential to be a great tool for this thanks to Keynote. Yet it suffers from one serious weakness; there has been no way to include speaker notes in any of the iPad presentation apps available — until now.
Speaker notes are the notes that only the speaker can see. A good presentation does not put everything the speaker says on the screen. In fact very little of the words said will be displayed only quotes, key words, or things the speaker wants the listener to write down. Everything else should be an image. In PowerPoint, these are viewable in the Presenter's View (see screen shot below). Microsoft explains it in their Office help pages online.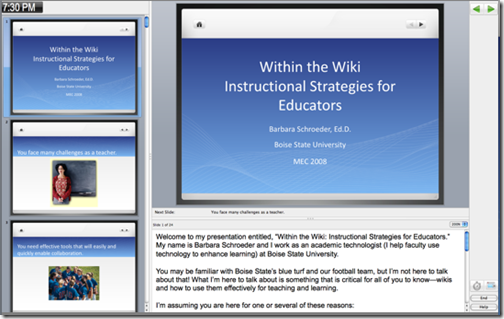 There is one app that comes close to making presentations with speaker notes possible. if you own a Mac and don't mind jumping through a lot of hoops to make it happen. That app is called 2Screens and in conjunction with the Mac version of PowerPoint or Keynote, a user can export his or her presentation as a PDF file with notes in place and import it to the 2Screens app. The steps are laid out by Kathy Schrock on her site.
Here's the short version: export the presentation with the right options checked and then import with the iTunes files sharing setup found on the Apps tab when the device is selected in iTunes. It is not ideal for a few reasons.
Too many steps are needed it should be simpler than this.
Only Mac users can use this method – the Windows version of PowerPoint doesn't have the right export options available.
The 2 Screens app is complicated, but that also means it has some interesting possibilities.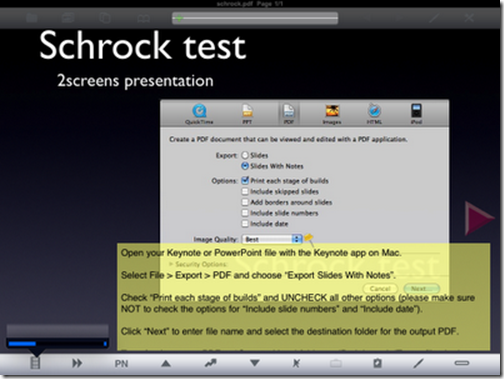 The solution to all of this is for Apple or someone else to create a presentation tool that does the following:
Displays the current slide and at least the next slide
Shows thumbnails of all the slides
Shows presentation speaker notes on the same screen as the current slide image
Has a laser pointer tool
Has an on-screen drawing tool
Has the ability to easily play video, audio, and PDF files
Will import from both Mac and Windows versions of PowerPoint
Here is our demo video of Keynote on the iPad hooked up to a projector.
Advertisement