One of the things I bought my iPad for was work. I plan to use it to edit and create documents. But it is not as simple as plugging in and copying things over (as it should be Apple!). Unfortunately, to do this you will have to use either a third party app that syncs with something like Google Docs, or you will have to use the iWork apps and iTunes interface. Here is a simple tutorial on how to get documents onto your iPad if you are using a PC. The process may be similar for a Mac, but I'm not a Mac; I'm a PC!
1. Create the document I used Word to make a document and then saved it. You can use up to the latest version of Word 2007 but there might be some compatibility issues. Don't create complex documents if you want it to work.
2. Connect your iPad and fire up iTunes.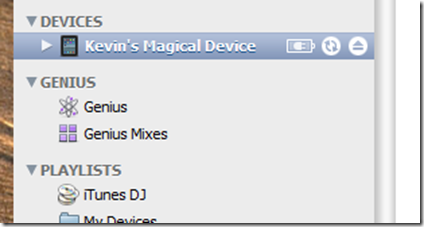 3. Select your device/iPad. See my magical" device in the devices list which is on the left hand side of iTunes.
4. Select the Apps tab in the main window on the right.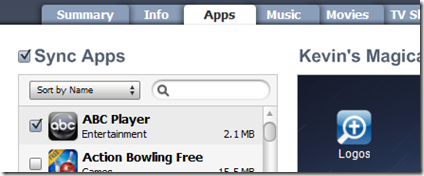 5. Below the list of Apps is a new box called File Sharing. Select the application you want to add documents to. For this, let's select Pages.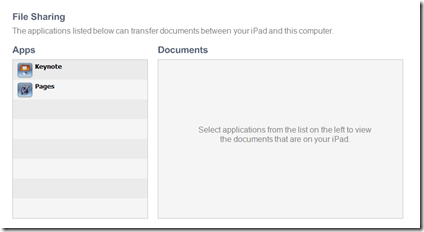 6. Next to the list will be a window that will be called Pages Documents. It will list all the Pages documents you have added to the device. Now click on the Add… button at the bottom.
7. Browse to the file on your computer and add the document. It should now show up in the list.
8. Click the Sync button and iTunes will place the document in Pages on your iPad.
Once syncing is done, you can open up Pages and tap My Documents in the upper left. I wish that resulted in a list of documents. But now you have to tap the folder button in the upper right to see the list. This is an extra step that is not necessary. Come on Apple! That's a very Microsoft-like design flaw. Once the document loads and converts, it will probably show you a list of all the formatting that did not make it over. For the documents I have converted, this has been mostly fonts and bookmarks. Yet, the documents looked very much like my originals.
Tip: Do not create complicated documents and expect them to convert well. Get the content into Pages and then change the way it looks and feels on the device. This will help you get a better result for formatting of documents.
Advertisement