The new taskbar in Windows 7 is arguably one of the best improvements from a user interface standpoint. Not only has it given users the ability to better organize their running programs, but it is easier than ever to control what it shows and add extras to it. In previous versions of Windows changing the default appearance in a meaningful way meant installing a hacked .dll file or other relatively easy, yet intimidating, tactics.
Thankfully in Windows 7 tweaking, hacking and personalizing your taskbar isn't just simple it's incredibly useful! We gathered a collection of Windows 7 taskbar additions and hacks that will make your computer easier to use and hopefully make you more productive.
Windows 7 taskbar hack #1 – Add Volume, Battery life, Memory Use and more to your Windows 7 Taskbar
This is my favorite Windows 7 Taskbar hack because it adds important information to your taskbar without being gaudy or intruding. It's great to be able to see how much battery life I have left, or ensure that speakers are turned down without squinting at the bottom right corner of my netbook. To add battery life and more to your Windows 7 Taskbar just install SuperbarMonitor. Via DownloadSquad.

Windows 7 taskbar hack #2 – Add the Quick Launch bar to the Windows 7 Taskbar
Many users have found that pinning items to the Windows 7 Taskbar is more than enough to replace the Quick Launch bar found in previous versions of Windows, but if you can't live without the Quick Launch bar, don't worry. Adding Quick Launch to the Windows 7 Taskbar is a 3 step process outlined by the Simple Thoughts site where they thoughtfully include how to change its location and how to remove it if you get sick of it.

Windows 7 taskbar hack #3 – Put a Functional Recycle Bin in the Windows 7 Taskbar
If you constantly need access to your recycle bin and don't want to leave it on your desktop, you may want to add a completely functional Recycle Bin to your Windows 7 Taskbar. If you read the previous tweak to put the Quick Launch toolbar on your Windows 7 Taskbar then you're halfway done with this hack; which amounts to dragging your recycle bin onto the Quick Launch bar. Seriously, that's all it takes to add the Recycle Bin and you're ready to delete and restore to your heart's content.

Windows 7 taskbar hack #4 – Tweak your Windows 7 Taskbar with Windows 7 TaskBar Tweaker
If you want to completely control how your Windows 7 Taskbar behaves than you need to install the Windows 7 Taskbar Tweaker. This small program is a portable application so you don't need to install it to use and it provides you with an impressive amount of control over the Windows 7 Taskbar from one menu. Windows 7 Taskbar Tweaker allows you to control grouping behavior, disable thumbnail preview and more.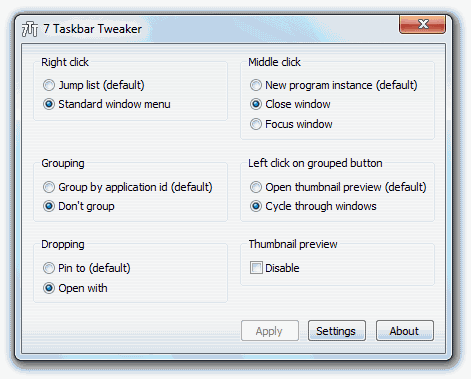 Windows 7 taskbar hack #5 – Master the Windows 7 Taskbar with Keyboard Shortcuts, Pinning and more
Now that you've added everything you could want to the Windows 7 Taskbar, you should learn some tips to help you use shortcuts to get around the Taskbar. Whether you want to launch a program with Win+1 (or any number up to 9) to launch a pinned program or to assign a specific keyboard shortcut to launch your favorite app; you can do it with the Windows 7 Taskbar. Make Use Of also shows you how to turn on cleartype, add the control panel to your Windows 7 Taskbar, run a command prompt from anywhere and customize the power button in Windows 7.
Advertisement