Having access to the Internet and car buying guides while looking for a new car can help save you hundreds or even thousands of dollars. Sadly, I had to learn that the hard way this week. But thanks to my iPhone, iPad and Verizon MiFi, I had information at my fingertips to help make an informed decision about a new car purchase today.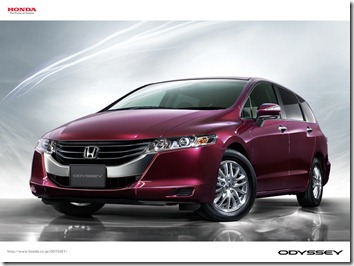 Last week our car's air conditioning went out. Not wanting to put too much in to a very old car we made the difficult choice to go ahead and buy a new vehicle.  I went online and started searching. We have a good friend who sells Hondas so we checked out the inventory at his dealer's web site.
Second, we went to our bank web site and used their online car buying tools. Check your bank to see if they have something similar.
Our bank is a credit union and they will let you apply for a loan online, get estimated payments based on their interest rates, and will help you find the values of both your trade in and the car you want to buy. I bookmarked these sites on my iPhone and iPad so I'd have them available when we went to the dealer.

Another great online site for making car buying choices is Edmunds. It is stocked full of car buying information, tips and advice. We were able to find out what the average cost people were actually paying for the model van and car we were interested in buying. You can select the option package of the car you are considering and see how much people near your zip code are paying for the same make and model. There are also reviews of the various makes and models. Another site is Kelley Blue Book. It is just like Edmunds with advice for car buyers and values of cars based on retail, selling it yourself, or trading in your car.
When we finally test drove two different vehicles my friend went to retrieve the prices of both our trade-in and their two vehicles with the options we wanted. While he was in that back room, where I am certain car dealers are really smoking cigarettes and laughing at us as they watch us fret on closed circuit TV, I was not fretting. I pulled out my iPad and fired up the MiFi to get online. I punched in the basic models and options at Edmunds and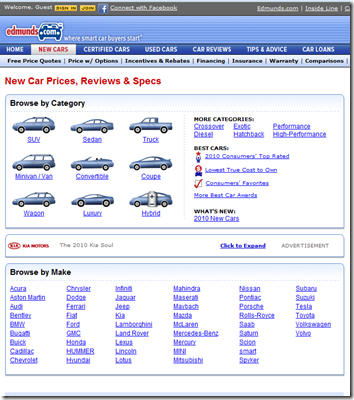 found out what people were actually paying in our area for these two models. Thankfully my friend came back with almost exactly the average price Edmunds returned for our zip code.
We decided not to bother haggling. He was not taking advantage of us and I didn't want to take advantage of him. Instead, I just showed him what our bank said its basic rates were for new car loans and he told us they would see if they could beat that percentage rate. I went ahead and submitted my loan application to my bank online while my wife filled out the dealer credit application.
Since the dealer didn't have the exact model of the van with the options we wanted on the lot, we couldn't drive home with a brand new van. But we needed to put the middle seats back in our van after our trip and pick up our title at home anyway. That also gives us time for our bank to respond to our credit application before we sign on the dotted line at the dealer in a couple of days.
Thanks to these mobile tools I really think we confirmed that my friend really is a friend. He wasn't trying to take advantage of our friendship and I think we got a fair deal on all three transactions buying a car, selling a car and arranging financing.
Here are some tips based on my experience:
1. Do your homework before you leave the house. Know what you want and about how much that make and/or model costs.
2. Have access to online tools like Kelley Blue Book, Edmunds, and your bank web site via your smart phone, something like an iPad, or even a notebook computer. This way you can look up specific information based on what the dealer actually has on the lot.
3. As Edmunds says, remember that you are dealing with three separate transitions. Don't let the dealer bunch them all up in to one big one. Get a fair price on your trade-in. Get a fair price on the car you are buying. And get a fair deal on the financing. Remember that you can always choose not to sell them your car or to arrange your own financing. Online tools like Craigslist or eBay are alternative ways of getting rid of your car. Also your local paper could be an option. And your bank is your friend; if you have a credit card or recently paid off a car loan they are very likely going to give you another loan with at least as good, if not a better, rate than the dealer.
4. If you are buying used, get the value based on your area. Regional costs change.
I'm no expert but thanks to these online sites, I think I saved some money today. Do you have other tips for using mobile tools, the web and technology when buying a car?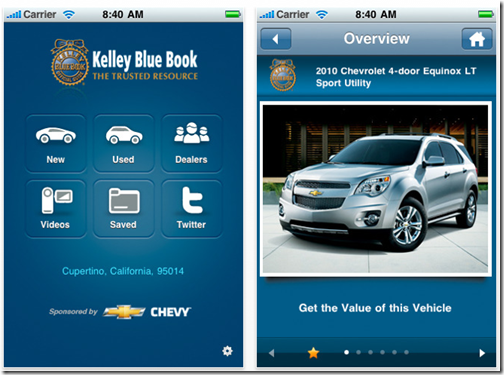 Finally, while I didn't use any, if you own an iPhone or an Android mobile phone, there are apps that can help you find similar information. Edmunds Blog has an app for the iPhone, although it seems more like general advice rather than specific car values. Kelley Blue Book has one too, which seems more like what you would use for car shopping. There are loan calculators too. I will get some of these the next time I go car shopping, which hopefully won't be for a really long time.
Advertisement