Lots of Windows PC makers are eagerly creating Windows notebooks that they hope will let users enjoy their typical desktop experience away from home. Only Razer's Project Valerie portable goes so far as to include three different 4K displays into one easy to carry package.
Razer revealed Project Valerie this week at the Consumer Electronics Show in Las Vegas, Nevada. The notebook was one of two exciting devices the company had at the show, the other being a projector that allows users to turn their entire living room into an immersive gaming experience free from the bonds of their television screen. In fact, both devices are meant to free users from just a single screen, though they approach that in different ways. Razer says that its unsure whether Project Valerie or Project Ariana will make it to store shelves.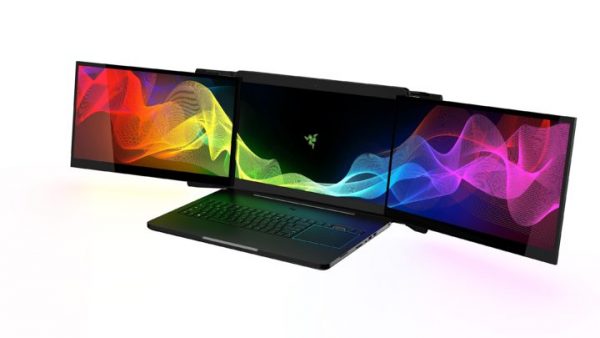 Two of Project Valerie's 17.3-inch screens folds out from behind the traditionally mounted 17.3-inch center display attached to its base. To be clear, the machine does all the screen moving for you.
Because the displays support NVIDIA Surround View, gamers can expect to take advantage of all three screens in their games, though Razer says it's possible to use just one screen. All three screens together offer a 11520 x 2160 resolution. The company describes the entire triple-display experience as a 12K multiple display. We were able to take advantage of all that screen real estate while playing Battlefield 1 on Project Valerie during a demonstration. All three screens cane be used outside of just playing games to, making Project Valerie the ultimate portable video editing station for sure.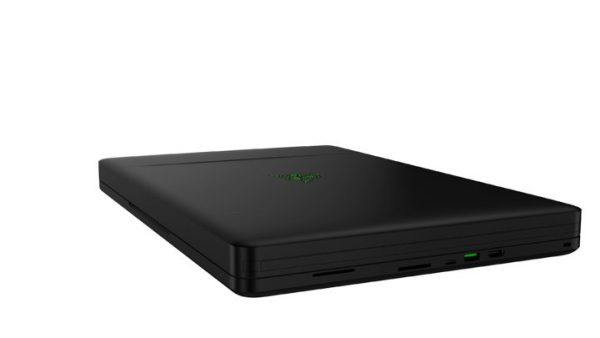 The company's prototype had all the other hallmarks of a Razer gaming notebook. The keyboard uses the Chroma technology from Razer's keyboard accessories. Each of the fold out monitors have chrome lighting on their bottom edges to compliment LED-laden keyboard. Because it's so wide, Razer opted to mount the trackpad – complete with its own LED lighting – just to the right of the keyboard.
The entire device has the same sleek and dark design that other notebooks the company sells do. What's more, the company insists that the device isn't anything thicker than the average gaming notebook that features a 17-inch display.
Advertisement