If you want to talk to your computer instead of type, but you don't want to spend the full price for Dragon Dictate 2.0 for Mac, Nuance has a new app you should check out.
The Dragon Express app is a new Mac app that brings dictation to your Mac for just $50. This new app is available in the Mac App Store starting today, and can help cut down on your typing and speed up your text entry.
Dragon Express is available only on OS X Lion, for the introductory price of $49.99.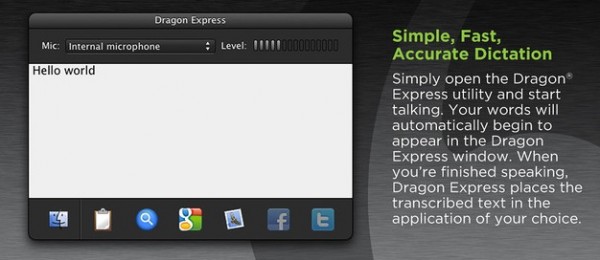 Similar to the Dragon Dictation app for the iPad, this app will allow you to talk to your computer instead of typing. You do need to talk into the Dragon Express Window, rather than your final text location, which makes this app more suited for the average user, and fits in with the $50 price.
To get up and running, you go through a two-minute enrollment process that will help the app learn your speech for better results and a microphone setup. You can use the built in microphone on your Mac or a USB headset, but you cannot use the iPhone as a microphone like you can on Dragon Dictate 2.5.
To use the new program, you click on Dragon Express in your menu bar and start talking. When you are done, you can click on the icons to send the text directly to common programs.
There are no limits built into the software, so you can dictate until you're done, without worrying about time or word limits. You can interact with your dictation using commands like Scratch that, which will delete what you just said.
Unlike voice commands and voice dictation apps that you find on your iPhone 4S or Android smartphones, you don't need an internet connection to use Dragon Express.
To help decide if this is the right app for you, I suggest checking out our Dragon Dictate 2.5 review.
Advertisement