HP is bringing the latest AMD Fusion processors to the popular HP Pavilion dv6 and dv7 notebooks which means users will soon be able to purchase with the just released AMD Fusion A Series Llano APU delivering 3D graphics and even gaming in an affordable package when the notebooks arrive this July with a $599 price tag.
HP Pavilion dv6 & dv7 Hands On Video
HP Pavilion dv6 & dv7 Quick Specs
The HP Pavilion dv6 and dv7 notebooks will be gaining the new AMD Llano APU and while HP has not yet announced the specific configurations, these notebooks will be quipped with quad-core AMD Llano processors which include clock speeds between 1.4GHz and 1.9GHz with the ability to Turbo up to 2.6GHz. While these clock speeds may seem slow, keep in mind these processors have 4 cores running at these speeds compared to the two found on most consumer notebooks in this price range.
The HP Pavilion dv6 and dv7 notebooks will also benefit greatly from the integrated Radeon graphics which will out perform some discrete graphics solutions when it comes to delivery 3D graphics and gaming. Based on industry information we expect to see the AMD Radeon HD 6620 or 6520 GPU included on these notebooks.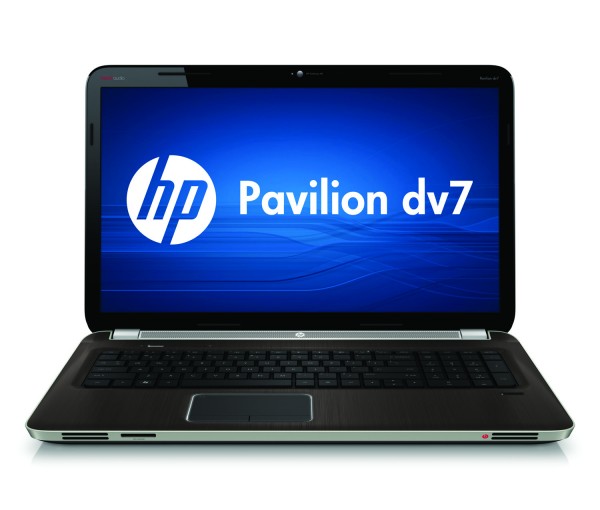 The HP Pavilion  dv6 has a 15.6″ display with a 1366 x 768 resolution and the dv7 has a 17.3″ display with a 1600 x 900 resolution.
AMD A Series Gaming Demo
In the demo below you can see how the AMD A Series processor compares to a quad core Intel® Core™ i7-2630QM processor typically found in higher end, more expensive systems. We will have to wait for these notebooks to arrive on the market before we can call them a great gaming notebook, but based on what we know about the internals the new dv6 and dv7 notebooks have a chance at delivering affordable 3D graphics to the average consumer.
HP Pavilion dv6 & dv7 Features
The new AMD powered HP Pavilion notebooks will share many of the same features which were introduced in early May alongside a new HP Pavilion dv4. These features include HP CoolSense to keep your notebook cooler while under a heavy load, HP TrueVision HD webcams for better video conferencing and HP Beats Audio for enhanced sound. In all, these features round out the new AMD Powered Pavilion notebooks for HP.
The new AMD powered models will continue the same look of the HP Pavilion line which HP calls MUSE, referring to the materials, usability, sensory appeal and experiences of the notebook design.
HP Pavilion dv6 & dv7 Pricing and Availability
The HP Pavilion dv6 and dv7 will be available in July with the new AMD A Series APUs starting at $599 and $699 respectively. HP has not announced the availability or pricing of the HP Pavilion dv4 with AMD Fusion processors.
HP Pavilion dv6 & dv7 Gallery
Advertisement