At the National Association of Broadcasters conference Tuesday, Apple demonstrated their professional video editing software update Final Cut Pro X (see previous version). The new version will come in June to the Mac App Store for the $299. That is the same price you would pay for an upgrade to the current version of Final Cut Studio. It currently costs $1,000 for the full version.
Final Cut Pro X is a total rewrite of the application, according to the demonstrators at the event covered by Mac Rumors.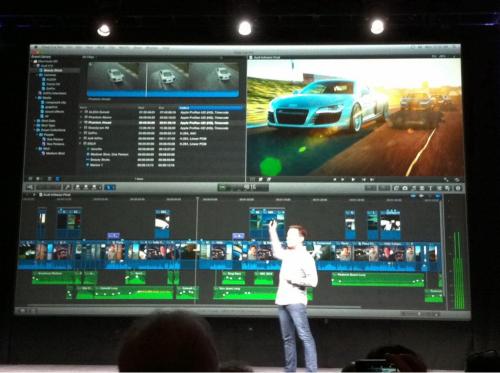 At the Final Cut Pro User Group SuperMeet, Apple pushed everyone off the stage in the ramp up to the event, and showed off the new features. It will be a 64-bit program with the ability to use a powerful PC's fullest potential to render video in the background. Also, you can now edit video while still importing it. No waiting for the video to render. On import it can image stabilize jerky video automatically. Other things it can do automatically on import include:
Detect people
Detect shots
Balance color
Clean up audio removing hums or other distracting noises
To save time, Final Cut Pro X will instantly render video in the background as you work. This means you don't have to wait for it render on export. Audio editing is much improved. They've added a lot of new keyboard shortcuts. Macgasm mentioned how much faster the program looked, according observers who were at the demo.
For those of us with simple needs, there is always iMovie. It comes with Mac OS X or can be purchased in the Mac App Store for $15 if you don't have the latest version. Apple has a more advanced package called Final Cut Express. It is a streamlined and simpler version of Final Cut Pro. Unfortunately, nothing was mentioned about Final Cut Express at the event. Apple told those who inquired to "stay tuned".
Advertisement