TwelveSouth makes premium Apple accessories including the very durable all metal BookArc stand for MacBooks. They have two models, one for the MacBook Air and one for the larger MacBooks and MacBook Pros. We gave them both a look. To be honest there isn't much to test with these stands. But they work and work well, holding your notebook in a vertical alignment on your desktop so that you can get a little clutter off the desk.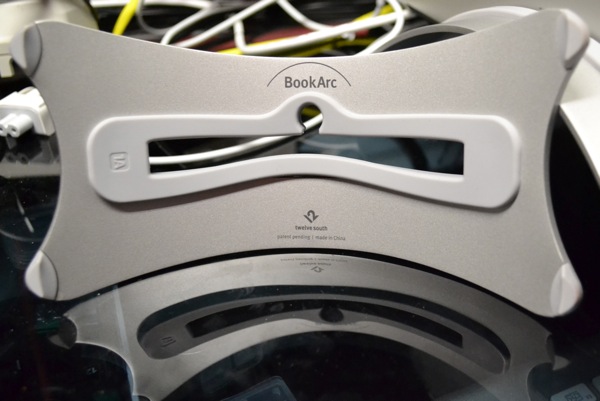 Because the MacBook Air is so much thinner, the opening on the one for the MacBook Pro is not as stout at holding the thinner notebook. So TwelveSouth released one just for the MacBook Air. It is shorter lengthwise and has a narrower opening in which the computer rests.
Build and Quality
Both of these have a rubber liner that protects the aluminum case of the MacBooks from getting scratched as they are taken in and out of the stand. The MacBook Air stand has an opening for wires to go through while it is in the stand.
On the bottom of the stand there are rubber feet which do a great job of keeping the computer in place. It doesn't slide on even the slickest of surfaces.
These stands are sturdy. They are made of a solid and thick piece of aluminum bent in an arc shape. So there are no worries about bending them.
BookArc Stand Video Review
Packaging
Even the box the stand comes in is high quality. Like Apple products themselves, TwelveSouth's packaging is something to behold. The package even comes with suggestions of what you can use the box for after you remove the product. We plan to save ours.
Cost and Value
For just $39.99 you can get a MacBook Air BookArc stand. The one that fits the MacBook and MacBook Pro is only $10 more. Now they also have one for the iPad, which we did not test. It is just $29.99. It can be used to hold the iPad in a monitor-like way to double as a desktop computer while charging or syncing the device. It could be handy for turning your iPad into a notebook.
Conclusion
Considering that most companies jack their prices up just because they are making the product for an Apple device, we think that the BookArc stands are well priced and a good value, if you want to put your MacBook in vertical stand on your desktop or next to a TV when using it is a home entertainment environment.
Absolutely the only complaint we can come up with on this product – and that was with a painstaking desire to come up with something – is that on the larger model the stand doesn't hold the computer well if you put it up in taller portrait mode. And the fact that this was the only complaint we could come up with shows you how great  product this is.
Pros:
Sturdy
High quality material
Nice packaging
Don't slide around
Cons:
Computer gets wobbly if you put it in portrait style
Advertisement