Apple's answer to Microsoft Office, the iWork suite, hasn't been updated in some time, but it looks like we could see iWork '11 pretty quickly. Best Buy Mexico inadvertently put up a page telling shoppers that iWork '11 would be coming February 19th, inviting Apple users to stop in and "Discover the New iWork '11" at 7 PM February 19th.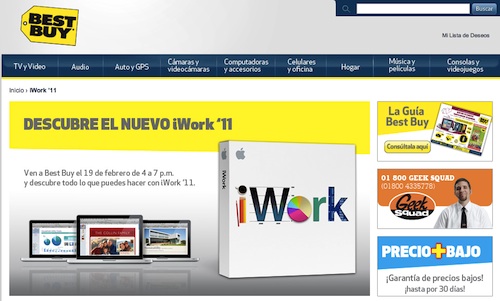 While the Best Buy page has since been pulled AppleBitch managed to grab a screen capture of the page which is shown above. We had anticipated that iWork '11 would launch with the Mac App Store in January, but that has come and gone without new versions of Pages, Numbers and Keynote.
Aside from the length of time since the last update there are other reasons that we are anticipating a refresh of the office suite. One factor is a decreasing supply of iWork '09 packages at retail. While this could be partially attributed to Apple's move to the Mac App Store a constrained supply is a key indicator that Apple is readying a new product.
When iWork '11 arrives we expect to see the same pricing as previous versions which available for $79.99 or for $49.99 as an add-on to a new computer purchase. Additionally we expect to see Pages '11, Keynote '11 and Numbers '11 available individually in the App Store for $20 a piece.
iWork '11 is in competition with [amazon_link id="B003YCOJA8″ target="_blank" ]Microsoft Office for Mac 2011[/amazon_link]which is available starting at $100 for the Home and Student edition. You can see a comparison of iWork and Microsoft Office for Mac 2011 to figure out which one may be a better fit for your needs.
Advertisement