Looking to get a launch and waste some time? Head over the the Google Voice Personalized Santa website to set up a free personalized call from Santa to a child, friend or co worker. The free service allows you to choose from a collection of different options to tailor a call that will be sure to deliver a smile to the recipients face.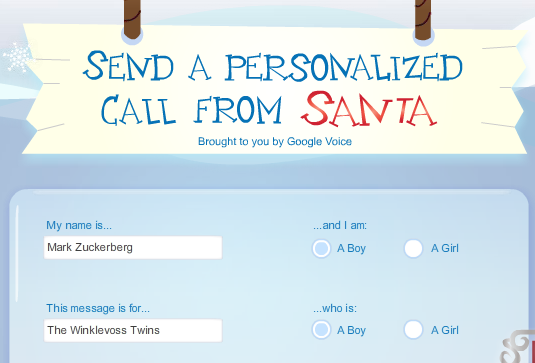 After agreeing that you won't abuse the system, you'll be asked to provide relationship information, favorite items, what they want for Christmas and a few other options. From there you'll get a preview of the message to make sure that all of your choices were correct and you can send the message. The call will be connected instantly, so if you're nearby you can sneak over and watch the results!
Customizable options include:
Gender
Location
What they do
What they want for Christmas
Favorite food
Holiday of celebration
a Nickname
a Favorite activity
The free call is sponsored by Google Voice, a free service that provides many benefits including voicemail transcription, number forwarding and more. You can learn how to use Google Voice in our series Google Voice University where we cover all the basics like Google Voice 101 and even more advanced Google Voice tricks.
Advertisement