Searching with Google is simple, but searching a single site requires either that the site include a search box or the user remembering a special search command. For example to search Notebooks.com for the words Google Search" you would type the following:
site:notebooks.com google search
That is simple enough, but for some reason I can never seem to remember if you put the site:notebooks.com first or last. Now Google is trying to make this even simpler. Now all you have to do is put the word at" and the site name after your search string like the following:
google search at notebooks.com
You will notice that when doing the search the two different ways it does not produce the same results. See the below the first image is using the old way putting site:notebooks.com before the string.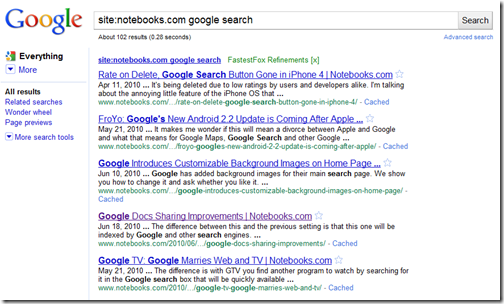 The image below is using the new method of putting at notebooks.com after the search.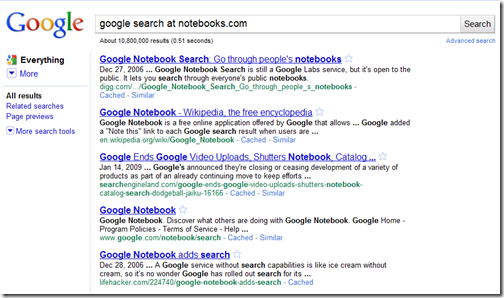 If you compare the two you will see that the new method really doesn't work that well. It includes too many other sites because it doesn't seem to recognize notebooks.com as a web site but just another search string. In my tests it works fine with very well-known sites like Microsoft.com or hp.com. But unless the site is one of the extremely large web sites, it doesn't seem to recognize the website name. I even tried entering the https://www part of the address and that didn't even work. So until this works better, you will still have to remember the site:notebooks.com method.
Here are two more examples that show this new search method is of limited value.
As you can see I searched for my favorite football team the Green Bay Packers at NFL, as in https://www.nfl.com. Only a few of the top results are at that site.
Here is a search for Apple iPad at Amazon, as in https://www.amazon.com.
Again, there are only a couple of hits that are actually at the Amazon web site.
This shows it is still best to use the site:www.yourdomain.com string before your search string to find things at that site consistently.
Advertisement