The FCC voted unanimously to allow for the use of white space" spectrums for what the agency calls Super Wi-Fi" despite opposition from broadcasters and users of wireless microphones, like churches and theatre groups, according to Physorg.com (via Engadget).
The TV white spaces are the area of the radio spectrum between the frequencies used by television broadcasters. All broadcasters use radio waves that have a frequency of vibration. Different signals do not interfere if they are on a difference frequency. It is like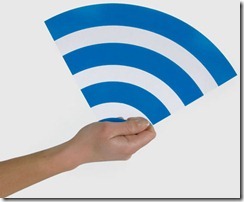 having a highway with different lanes. Stay in your lane and you won't wreck with the drives in the other lane. Many companies have been begging the FCC for the right to use the space between the lanes" in the TV highway." Two years ago they initially said yes, but delayed until all parties could take part in the debate. Now the FCC has made a final decision and now final steps can take place to make Super Wi-Fi" a reality using the space between the TV channels.
The groups who opposed this decision did so for fear of interference. One group was television broadcasters your local ABC station for example.  Another group was made up of makers and users of wireless microphones which were operating in the spectrum. Both groups opposed the original attempt by the FCC two years ago. But after investigation and allowing all parties to comment, the agency voted 5-0 to open  up the spectrum so that companies longing to develop the white spaces like Google, Microsoft and Dell. In response, Google has given the agency their kudos at their Public Policy Blog.
What all of this means to the average user is a company, like Google, can now create devices or develop tools that will use this spectrum. For example, a new high-powered Wi-Fi system that, instead of converging just a portion of one building could now conceivably cover the entire campus of a small school or college. Devices that struggle to achieve a wireless connection because of thick walls could now achieve a connection through multiple thick walls and even across multiple buildings, since the radio waves in the TV White Space doesn't just travel dozens of feet, but a couple of miles. Also the radio signals could be used to create much broader and therefore much faster data connection speeds. Imagine Gigabit wireless transfer speeds.
The good news for those who wish to develop for these white spaces, the frequencies will be unlicensed. Some frequencies, like those that broadcast TV and commercial radio signals require a license. These will not; so an average user can use equipment that creates a wireless network without paying the FCC for the rights.
Chairman Genachowski and his fellow Commissioners deserve ample credit for adopting rules that ultimately will put better and faster wireless broadband connections in the hands of the public. We're glad to see that the FCC appears to have rejected calls to enact burdensome and unnecessary constraints that would have made it more difficult to deploy useful technologies on these airwaves. Instead, the Commission has put forward common-sense rules that will help encourage innovation, while fully safeguarding incumbent signals from interference. (from Google's Public Policy Blog)
One of the rules mentioned by Google is a database of locations where people are using frequencies that are close to those in the TV white space. That will ensure that your local ABC station won't have interference because a neighbor has a strong signal too close to their frequency. This database of current users must be in place before companies and people can develop technologies that take advantage of the white spaces. A drawback is users of older wireless microphone systems may have interference and need replacement once the spectrum is in use.
Advertisement