Facebook users can get a preview of the soon to be released Office 2010 Web Apps using Facebook Docs.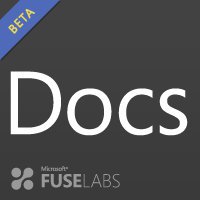 Microsoft will be releasing its new Office Suite on June 15 to the general public with the release of  Web Apps will come several weeks" after that. Office Web Apps are designed to compete with Google Docs, allowing users to upload, edit, and preview Office documents using a web browser. If you have a document that you want to work on and have uploaded it from one PC you can access it via any PC that is on the web. In my test it worked fine using Firefox, Chrome and Internet Explorer. It even works a little bit on the iPad via Mobile Safari. More on that below.
In a surprise announcement, Microsoft teamed up with Facebook to give users of the social networking service a Facebook branded version of Office Web Apps at Docs.com. I signed up and just had my account turned on for online editing this week. Prior to this week users were only able to view documents via the Facebook service.
The online version is similar to the full scale versions of Office. You can view and edit Word, Excel and PowerPoint on Docs.com. The full version of the Office Web Apps will also have OneNote functionality. When editing each of the file types you see a trimmed down version of the Office Ribbon, Microsoft's tabbed based toolbars. The only tabs available are for formatting, inserting content, and the view tab, which in Word mode has buttons for Editing View" and Reading View". I have not see the online version of OneNote yet. The screen shot of the various ribbon bars below reveal how similar the four are.
In PowerPoint mode, when you click on the button to view the slide show, it will pop up a new window. In Firefox I had to approve the popup since I have popups turned off. Opening a presentation was not very fast the first time I tried it. A blank slide show took almost a minute to actually load the first time. It must be installing some plugins because the second time I opened a file was much faster. The Web Apps run best if you have Microsoft Silverlight installed, which I did.
When you are finished with your presentation you can broadcast" the document by starting it and inviting others to see it remotely. I don't think this is in the Facebook version at Docs.com or is not yet ready because I could not find the feature on my account.
When editing an Excel document you only have the Home and Insert ribbons. There are only basic spreadsheet features. But if you have simple needs, like most do, it would do fine.
In the Facebook version of the Web Apps, users can share documents with friends and see documents their friends have also shared. You can write something about the document on your Facebook wall along with the link to the document. To do so you edit the document's sharing profile. From then on any comments written to the wall of that document will be shared. A wall is like a digital bulletin board for a person's profile and now for a shared document.
On the main home page, you can see example documents shared by users. For example there was a PowerPoint file labeled Cool PowerPoint Hacks" Sadly, when I opened and started the slide show, about 15 percent of it was cut off on the right side. See picture below: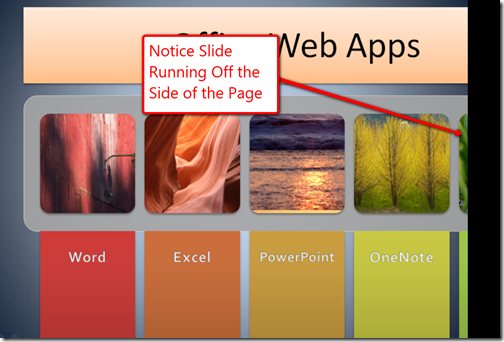 Office Web Apps are going to be available in a number of formats, just like Office itself. There is one version for Facebook users highlighted in this post. There is a version for corporations to host internally using SharePoint. Microsoft will also make available a version that companies can have hosted for them on Microsoft servers as part of their hosted SharePoint service for a fee. And finally there will be the public version as part of the Windows Live system of applications. The MS versions (not Doc.com) will also include OneNote capability.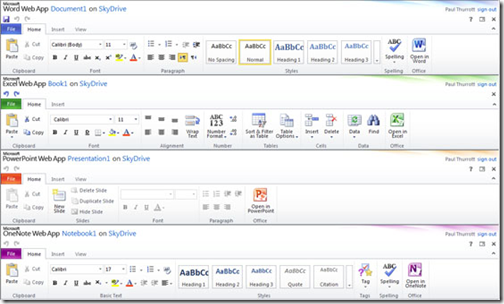 Ribbon Bar Images from Winsupersite.com
I'm not sure that I would use this much. It is nice to know that it is there if I don't have my PC around and can borrow a friend's. I tried to use the service on my iPad and it worked a little bit. Number functioned but not until I hooked up my Bluetooth keyboard. When I began editing a Word document, it froze Safari so badly that I had to force my iPad to shut down and restart to get it going again. Then when I tried to log back in on my PC and edit the document, it said it was being edited already and denied me access until I logged back in using my iPad and closed the document there.
Docs.com is designed for sharing documents with friends on Facebook. The full Web Apps version is meant to be used by people who want to collaborate on a document, edit them when the full Office applications are not available, or through the Internet when you don't have the file itself.
The service is far from perfect. Excel and OneNote will have collaboration features built in, but Word and PowerPoint won't at the start. Another problem I see with the PowerPoint Web App is that when running a presentation it has the address bar above the presentation. This is easily remedied by the F11 key which puts many browsers into full screen mode. But there was still a misshapen white border around the window. And as mentioned the slide was cut off on the right of the PowerPoint document I opened from the Home page. Frankly. the interface is just inconsistent. Some documents have a Delete link to remove them and others do not. It may be buried in the interface, but I couldn't find it. A service designed for ordinary Facebook users better be very simple and straightforward or it will cause frustration.
If you need a more complete overview of the full Web App experience, Microsoft guru Paul Thurrott has one as part of his larger Office 2010 coverage on the WinSupersite.
Advertisement