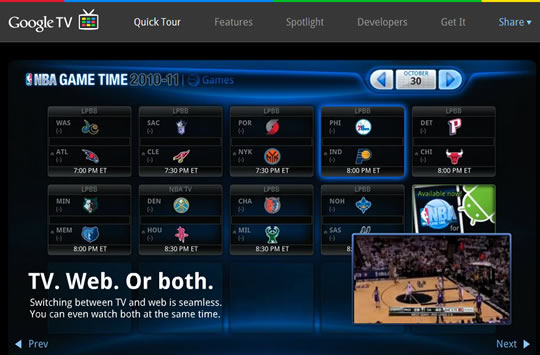 In a move to boost its Google TV platform, which Google hopes to meld the Internet and television into a single living room set-top box, Google is urging developers to re-build websites for Google TV. As most Internet pages are designed with the keyboard and mouse–or trackpad–in mind, the Internet as we know it may not be a great experience for those who aim to browse the net in their living room as opposed to their offices or at their desks.
Ahead of bundling its Android SDK add-on for apps for Google TV, the company has released a few templates and a UI library to help developers create attractive webpages that users can interact with from their living rooms. The move may be similar to what Apple did when the company released its guidelines for creating apps for the iPhone, urging developers to develop apps for the fingers, rather than touchscreens of yore that required a stylus, resulting in larger buttons rather than small menus and lists that users had to peck at with their pens and fingernails.
One example of what Google is recommending to developers is to integrate the number pad of Google TV's keyboard into their websites for users to use as a directional pad. The company is supporting both HTML5 and Flash protocols on Google TV to aid in the platform's deployment and adoption, which so far has been relatively slow. While the company has canceled support for H.264-encoded videos on its Chrome browser, the protocol is still supported on Google TV to help bring wider compatibility and support for more Web-based videos.
Google still has some challenges ahead as it fights to create a home ecosystem that marries mobile and cloud computing through its Android smartphones and upcoming Chrome netbooks, home computing through PCs and notebooks via the Chrome browser, and living room and entertainment computing through its Google TV platform. So far, TV studios have not been able to reach an agreement with Google, resulting in Web video contents from ABC, CBS, Fox, and NBC being blocked.
As the desktop OS may be shifting towards touchscreen as Windows still need to release a 'Tablet PC' contender to fight mobile OSes that were designed for touch, such as iOS, Android, rumored webOS tablet, the BlackBerry Tablet (PlayBook), and MeeGo operating systems, it will be interesting to see how computing and Interactivity with a television will pan out over the next few years.
Via: InformationWeek
Advertisement