Velocity Micro is releasing its Cruz Reader tablet running Android 2.0 operating system to stores this week. The 7-inch tablet is primarily and e-Reader with Border's eBook app and it will cost just $199.
Joanna Stern of Engadget said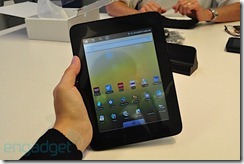 the device was sturdy, has a back that is made of a rubber-like material, and is a little heavy at a full pound. The screen is glossy and is said to have less-than-excellent viewing angles." The screen is resistive touch, meaning that you will have to put more pressure on it. Stern said in their test they could easily tap to go to the next page and move down the screen by dragging with a fingernail. It could be possible that the Micro Cruz Reader will work with most styli.
The Cruz won't have access to the Android market place making it less appealing than full Android tablets. Velocity Micro will include their own Cruz Market for some apps. Judging from the description, this device seems poised to fill a void between the single function e-Book reader market held by the Kindle or Nook and higher-priced, multi-purpose devices like the iPad or Samsung Galaxy Tab.
Below is a video demo from Velocity Micro.
https://www.youtube.com/watch?v=Znry0q_yo3M&p=0D8D981152122E2A&playnext=1&index=38
The device will run video, games, and a web browser. It has a volume up/down button on the right side. The bottom sports a head phone jack, built-in speakers and the power input for charging. The power button to turn it on/off and putting it to sleep is on the top along with a USB port for connecting to a computer and copying files to/from the device and an SD card slot to store media.
Advertisement