The Samsung Galaxy Tab, a new 7-inch Android tablet, was announced last week and there were many rumors that the price would be upwards of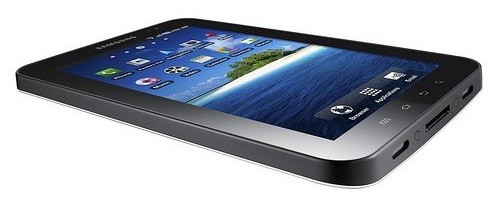 $800. Now there is the first proof that the pricing rumor may be true since it has been priced at $799 Euros (a little over $1,000 USD) on the German Amazon web site. Some feel that is going to be just too expensive to compete with the Apple iPad.
While the rumor on the pricing seems to be confirmed in Europe, there is another report that in the United States the same product will have a much cheaper, initial cost. Engadget linked to a Wall Street Journal article that said the Tab will not sell directly to consumers in the US. Instead the company will only sell to wireless carriers who will in turn market it to their customers as part of a wireless contract with a subsidized price of $200-$300, or slightly more than the Galaxy S mobile phone.
But will that make it "cheaper" or just defer the total cost to consumers through their wireless contract? At Sprint the cheapest current monthly data plan is $60. Verizon has the same rate. Over a two-year period, which is the standard contract length in order to get the best price on nearly all wireless hardware, would cost $1,440 plus the initial cost of $200-$300. Even at best case scenario of $200 for the Galaxy Tab, that is a whopping total cost of $1,660.
If the Galaxy Tab came to AT&T, which is the carrier for the 3G version of the iPad, then the two-year cost using the $30 per month price, and assuming a $200 device cost, would be $920.
The initial cost is much better for a Galaxy Tab with 3G capability when compared to the iPad with 3G. The cheapest 3G iPad is $629 plus the $720 for the two years of wireless service for a total of $1,349; but iPad owners aren't locked into a contract. However, that is only if the Tab is on the same much maligned AT&T 3G network. If it is on one of the other two major wireless services, then it will cost about the same as the iPad over two years.
Some will argue that customers would be paying the data plan price anyway. But would they? Many enjoy their Wi-fi iPad's without a wireless plan at all.
Whether it ends up on AT&T, Sprint or Verizon it looks like the up front cost for the Galaxy Tab will be much less than overseas, but it will come with an expensive contract.  Buyers who don't do the math may be caught up in believing that the costs of the Tab is far cheaper than the iPad, which could result in a hit for Samsung and whichever wireless carriers they partner with.
Advertisement