Samsung introduced many new products at their media event as part of the IFA trade show in Berlin on August 29, showing off new Samsung Slate PCs including the Samsung Series 5 and Samsung Series 7 slate PCs running Windows 8 and coming with a keyboard dock and stylus for handwriting and inking.
As Samsung says, these will offer the "Best of Both Worlds" with a Slate and a Laptop in a single device.
It's hard to distinguish the difference between these Slate PCs and the Samsung ATIV Smart PC and Smart PC Pro also announced yesterday.
What the Slates Share In Common
Both Slates transform from a small portable computer that resemble an ultraportable notebook PC. They will run Windows 8, which means that neither will show up ready for sale until October 26th, the release date for the new version of Windows. Each will quickly switch from a PC that I can type out an email or a longer document and then press a button to detach the keyboard from the tablet part to carry around and use either the stylus or the ten-point touchscreen.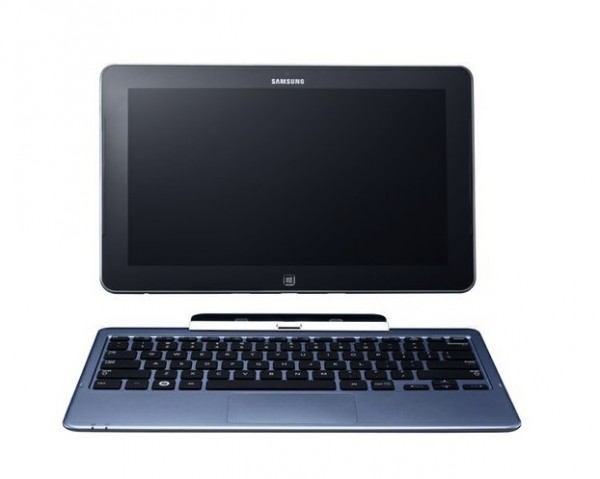 Samsung includes the S Pen that shipped with their popular Samsung Galaxy Note Android Smartphone. The pen senses 1,024 levels of pressure. This will let users who want an art pad to draw on or a fluid inking surface for realistic handwriting. Samsung showed the user of the hover functionality that lets a user simply hover over the surface to interact with the computer to see previews of images.
The devices will weigh less than two pounds. The keyboard will attach to the slate via a mechanical hinge that Samsung promises will hold tight even as the user picks up the computer via the display. Fold it down to carry it around like one would a regular notebook.
Series 5 vs. Series 7
So what's the difference between the Samsung Series 7 and the Samsung Series 5? First, the Series 7 will offer a 1920×1080 screen resolution while the Series 5 owner will only see 1366×768 resolution.
Second, the Series 7 offers a more powerful platform with an Intel Core i5 processor and 4GB of RAM supported by 128GB of SSD for fast storage and quick booting and instantly waking from sleep. That's pretty respectable level of power for a tablet or laptop.
The Series 5 doesn't bring that much horsepower with an ultra-low voltage Clovertail Intel processor running at only 2-watts. It gives the user only 2GB of RAM and a smaller 64GB SSD. Thanks to the low power, the device won't need a noisy fan to cool it making it more tablet-like.
The Series 7 will give pro uses more power while the Series 5 focuses more on day-to-day simple consumer level tasks like reading email and webpages and viewing snapshots or playing some casual games.
Detailed Specs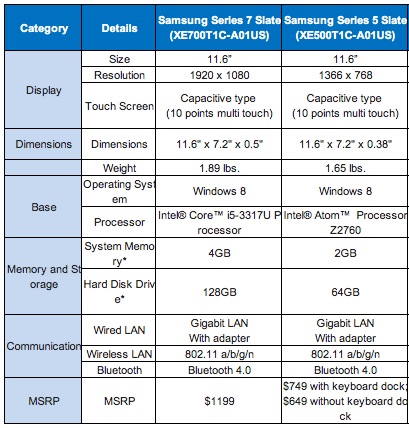 Availability
For those interested in seeing the entire announcement event, please visit GottaBeMobile to watch the announcement video.
On October 26th users can get one of the two slates starting at $749 for the Samsung Series 5 with the keyboard or $649 without and $1,199 for the higher-end Series 7 which only comes with a keyboard.
Don't confuse these with ordinary tablets that compete with the iPad or an Android tablet like the Samsung Galaxy Note 10.1. These offer more power and the Series 7 should run Windows compatible software. Instead buyers should compare these to the Ultrabooks notebooks that usually start around $799 and cost as much as $1200 to $1500. I'll look forward to seeing if Samsung can convince users of this or if buyers will see them as high-priced tablets with a keyboard accessory like the Asus Eee Pad Transformer Prime, which also lets users dock a tablet on a keyboard while running Android.
Advertisement