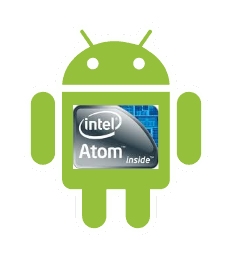 If Intel has its way you'll soon see Android running on Intel Atom powered netbooks and slates. APCMag reports that Intel has set developers to task "Atomising" Android over the next two months, with the expectation of providing a release to developers yet this summer.
The Intel developers are working on converting Android 2.2, "FroYo" from an ARM processor, like those found in android smartphones, to the x86 platform which is what powers netbooks, notebooks and in the future some powerful smartphones.
While we have already seen Android on netbooks, like the Toshiba AC100, these have been restricted to ARM processors. The release of a native version of Android optimized and designed for x86 processors could spur development of low-cost tablets and netbooks that run on Android. When the project is done, later this summer, Intel will be releasing the code back to the Android development community for use and further improvement.
Personally I am excited to see what Intel can do to bring more powerful tablets, with the more polished FroYo Android operating system. When it comes to netbooks Windows 7 is a good fit for my needs, but if a manufacturer brings an iPad competitor I could be tempted. There's always the chance we'll see some kind of cool MID, mobile internet connected device, that leverages an Intel Atom processor and the Android OS to shake things up.
Ultimately, it will depend on the Android Market, which has traditionally been a mixed bag on non smartphones. If manufacturers can get the full Android market on an "Atomised Android" release hen perhaps the vision I shared above can come true. An Android device, or any similar internet connected device, cannot survive without an app store. Good or bad, if the device is to be used by the general public it needs an app store to work.
For a collection of other opinions on the creation of an x86 version of the Android operating system, ComputerWorld's IT Blogwatch has rounded up many opinions on what effect, if any this will have on the industry.
Advertisement