HP announced a collection of new laptop upgrades today including a refresh of the HP Pavilion dv7 notebook. The HP dv7 is a 17.3″ notebook from the HP consumer line that is getting a new look, a dark umber metal finish, and new features to cement its place in your short list of large multimedia capable laptops.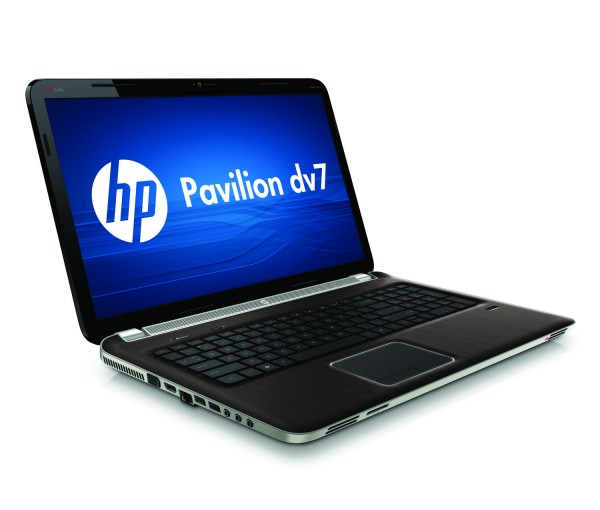 HP Pavilion dv7 Processor and Graphics Options:
One of the biggest changes is the switch to the new Second Generation Core i Family of processors, with Core i5 and Core i7 options available at launch. The new processors have built-in Intel graphics which offer a much higher quality multimedia and gaming experience than users have found from integrated graphics on most laptops. The new processor and GPU combo will allow users to do some light gaming without the need to upgrade to a discrete graphics card and offer better video transcoding (converting video files for playback on your iPhone).
If the integrated graphics aren't enough for you, the dv7 can be configured with AMD Radeon 6000M graphics, which will provide enough power for advanced gaming. From a storage perspective, the HP Pavilion dv7 has USB 3.0 support and can be configured with up to 2TB of internal storage.
HP Pavilion dv7 Multimedia Features:
As far as multimedia prowess goes, the Pavilion dv7 comes with a 17.3″ HD Brightview display and includes Beats Audio. Beats Audio is only found on HP laptops and is designed to deliver music the way that the artist wanted you to hear it. The premium audio solution is complemented by the inclusion of a quad speaker sounds system that is integrated into the laptop.
The speakers are distributed throughout the laptop with two at the front and two on the hinge to deliver a more enjoyable field of sound. The HP Pavilion dv7 also has a built in subwoofer for deeper bass.
HP Pavilion dv7 Video:
The video above is of the HP Pavilion dv6 model which was also just refreshed. The video should give you a feel for what the dv7 looks like and some of the features found with the Winter 2011 refresh.
HP Pavilion dv7 Communication, Security and Cooling:
Other notable features include the HP TrueVision webcam which should be suitable for low light video chatting, an optional Blu-Ray player and security features that allow users to log in with a fingerprint. Additionally the dv7 has HP ProtectSmart which will lock the hard drive in the event that the notebook is dropped.
If keeping cool is important, you'll be happy to know that the new Pavilion dv7 has CoolSense technology which uses hardware and software to automatically cool your laptop.
HP Pavilion dv7 Pricing and Availability:
The HP Pavilion dv7 will be available in Spring 2011. No pricing has been announced at this time.
HP Pavilion dv7 Gallery:
Advertisement