Notebooks may finally be back on the rise after a yearlong decline in popularity, mostly thanks to the iPad. According to new data from Gartner the notebook market saw a 2.5% growth this past quarter, which helped Apple grow significantly from 2010.
Despite the current growth, the PC market is still battling several years of declines thanks to the economy and popularity of tablets. In this mix Apple is the big winner, capturing 10.7% of the PC market and taking the number 3 manufacturing spot thanks to 8.5% year over year growth.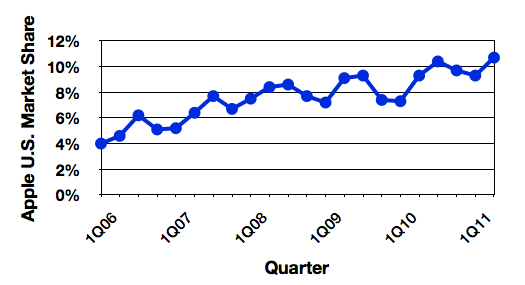 The iPad is not counted in these numbers, which points to the popular MacBook Air as Apple's primary source for growth. The ultraportable notebook features long battery life, fast enough computing and a small sexy package. Best of all, the 11.6″ model is an affordable-ish $999. By delivering a cost competitive ultraportable notebook Apple has been able to tap into a still spending group of shoppers, who can't find what they want from other manufacturers.
Apple is expected to announce a new MacBook Air as early as next week, which is estimated to capture 50% of the company's notebook sales by the end of the year. Apple can enjoy the lead for now, but if Intel and the rest of the PC manufacturers have anything to say about it Apple won't be the only player.
The Intel UltraBook design is poised to bring numerous ultraportable notebooks to the market this year, with prices under $1,000. We don't know much about the expected models from HP, but if it lives up to the Ultrabook specs Apple could finally see MacBook Air competition that can compete on specs and price, perhaps even on looks.
Via MacRumors
Advertisement