Joao Oliveira won HP's and MTV's Take Action, Make Art global design competition last year with his "Asian Odyssey" design. I met Joao at CES 2008 in Las Vegas to check out his design, which will be appear on a special edition dv2700 series notebook.
It's great to see a young artist's work featured by HP. Props to HP for not watering down the design and going with something so different. The design is a little too wild for my taste, but I'm probably a couple of years outside of MTV's demographics.
The Asian Odyssey special edition 14.1-inch notebook will be available this spring on HP's web site. We've also spotted an HP notebook case that features part of the Asian Odyssey design, but we don't have any word on if it will come with the notebook.
Joao's design was picked by a panel of judges from more than 8,500 entries.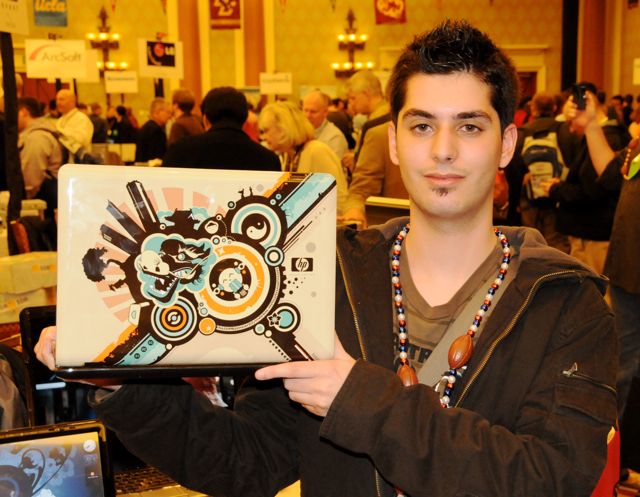 Xavier: Tell us a little about yourself. Where are you from and what do you do?
Joao: Hey there, my name is Joao Oliveira, I live in Portugal at the city of Oporto. Iâ€â"¢m currently working on a degree of Communication Design at ESAD in Oporto and hope to finish it in the next 2 years. Aside from that Iâ€â"¢m a regular guy with a regular life!
Xavier: How long have you been an artist and what kind of work do you normally do?
Joao: My journey on the world of arts and design is relatively new. Well, like most of artists, I started drawing when I was a kid but only in late 2006 did I start to really invest on this skill by practicing on an almost daily basis, learn anything and everything and develop a style.

Since then I've been working as a freelance designer, designing from logotypes to web sites and editorial design, I also am a member of an eclectic group of artists, designers, photographers and musicians called Evokeone.com which releases exhibitions in a bi/trimonthly basis. Each exhibition has a theme which our pieces have to follow so it helps a lot in my development process.
Xavier: How did you hear about the HP/MTV contest and what made you decide to enter? Did you think you had a shot at winning?
Joao: First I heard of it from a friend and later from a newsletter of a design portal, decided to try it since the first time I saw the advertisement, a contest held by two huge names like HP and MTV isnâ€â"¢t something that happens everyday so I had to try. Actually I wasnâ€â"¢t expecting to win, the number of entries was immense and there was so many great designs, it was a shock when MTV contacted me about the prize â€âہ I couldnâ€â"¢t believe it!
Xavier: So, tell us about how you came up with your winning design "Asian Odyssey." What applications and methods did you use to create it?
Joao: All of my creative process starts with a small research. In this one I gathered elements of the Asian cultures and picked some of them. The design itself started with the initial sketches on a paper, nothing too elaborate. At first, it was just some lines and shapes to have an idea of how everything is structured and connected. This was followed by the illustration of each element like the dragon face, separately. Then I combined them to create the main structure. After that came the detailing and junction of all the different elements; improvisation has its place too, I like to have some random and unexpected strokes on my pieces. The software used on this design were Photoshop and Illustrator — both are the main tools of my work.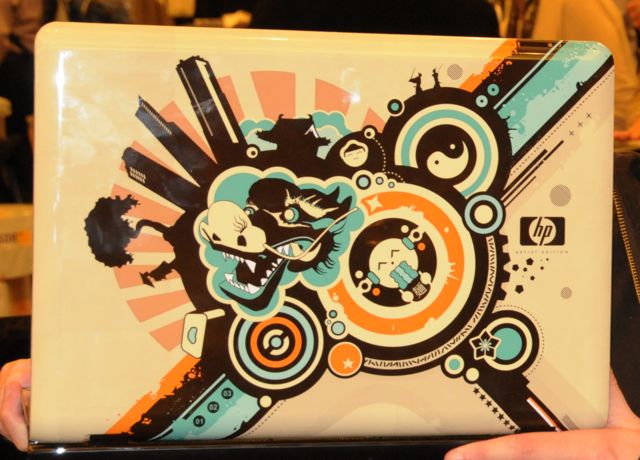 Xavier: Maybe I'm a few years too old to fully appreciate it, but kids seem to love it. What's the feedback you've received as to why so may people like it?
Joao: Most people tell me they really like the contrast of styles in the design, it mixes an old fashion vintage style with a modern pop-art one, others mention the colors, maybe it's a combination of everything, I particularly like the colors, they really add a lot to the design.
Xavier: How did you find out you won? What was your reaction and what did you do to celebrate?
Joao: Like I said before it was a shock. I was in college when I first received an email telling me I was one of the selected finalists but I didnâ€â"¢t get too excited. I thought there were dozens of finalists and I wouldnâ€â"¢t get selected. Hours later I got a call from an unknown foreign number, answered it and there it was, someone telling me I won, followed by the description of the awards! Wow!

Actually I didnâ€â"¢t do anything special to celebrate. I think it took me some time to digest all the amazing news. My parents and friends thought I was kidding when I told them I won and was going to Germany and Japan in a few days!
Xavier: You've been a busy guy since you won- Munich, Kyoto, Houston, Las Vegas. What's it been like to be flown all of the world and see your design go from your computer, into production and then at one of the world's biggest electronics trade shows?
Joao: To travel to all those cities in such a small amount of time, so early in my life and at the same time see my work being exposed to all the world, not even in my best dreams I could believe such thing!
It was a great feeling to see my design being produced and developed at Kyoto with all those employers working on it. Then seeing the real laptop in Las Vegas close to being released on the market and being shown at CES, well, what can I say? It's fantastic!
Xavier: I'm gonna assume you're using a Pavilion notebook with your own design now. What kind of notebook were you using before all of this excitement?
Joao: Actually the laptop with my design only arrives when it starts to get manufactured but right now I'm using a HP HDX (Dragon), it's one of the prizes and I love it.
Before this one I had a common desktop PC, it was old, and couldnâ€â"¢t even handle some bigger Photoshop files and was a pain to play recent games on it so it was a great deal to win this contest. Now I can handle bigger Photoshop files and play recent games!
Xavier: So what's next? Most artists/designers never see their design taken global by the world's largest computer company. Have you received any professional offers since you've received all this exposure?
Joao: Well, for now I will just continue studying, finish my degree and catch up on new opportunities. I've received some job invites from Portuguese companies and some commissions from companies all across the world, so it's all going pretty well. The future is still uncertain but Iâ€â"¢m really optimistic about it.

Thanks once again!
Advertisement