The Elocity A7 Tablet, an Android Tablet with a 1GHz Tegra II-720 processor, Google's Android 2.2 operating system and smooth video on a 7-inch capacitive touch screen is coming to Amazon this fall for only $400.
The company producing this is called StreamTV and according to Engadget they are going to be releasing the Elocity A7 Tablet for pre-orders on Amazon soon. StreamTV is a Philadelphia company that gave the folks at Engadget an hour-long look at the device and Engadget said the touch display is very responsive and video ran smoothly.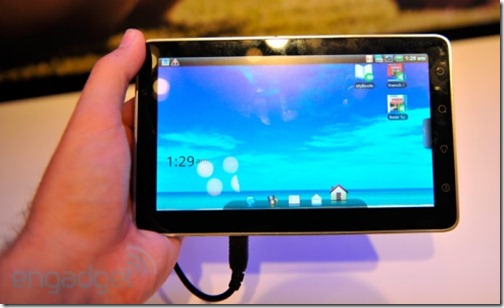 The resolution of the display is a decent 800×480 with capacitive touch and even multi-touch in the web browser and photo gallery apps. It also comes with a front facing 1.3 megapixel webcam along the left side of the tablet, which allowed the Engadget writer to make a Fring video call to another tablet in the room.
The A7 will come with an SD card slot and both USB and HDMI input/output. An HDMI cord will come in the box which can be used to connect the tablet to an HDTV. Engadget tried that out and watched a clip in 1080p saying it was smooth".
The tablet will also be useful for gaming with an accelerometer. Unfortunately they said their test of Asphalt 5, a racing game, was a bit flaky" which doesn't sound good.
Another problem with the A7 is the lack of the Android Marketplace. For that reason the company is going to include GetJar, a replacement app store. This is due to the fact that Google is not yeat allowing the Marketplace on non-phone devices and is a probelm facing many Android Tablets.
In the box, buyers will get the tablet, a wireless keyboard and the HDMI cable for $399. No word on battery life, but if it is more than just a few hours, at that price, this could be a decent competitor to the iPad and the Dell Streak.
Visit Engadget to see their embedded video and more pictures of the StreamTV Elocity A7. Below is a video from our friends at NetbookNews of the Compal NAZ-10, which the folks at Engadget said is essentially the same device.
Advertisement