Motorola recently released the Motorola Droid 2 for Verizon Wireless. This new Android-based smartphone is the successor to the ever popular Motorola Droid, sporting a sleek new look, improved keyboard, more power under the hood, and a new operating system. However, many reviewers have found that the Motorola Droid 2 falls short of perfection.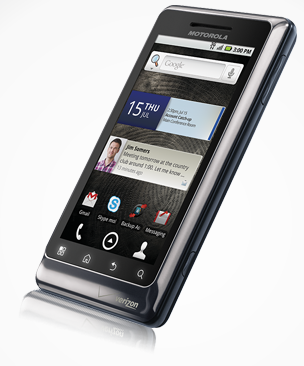 Motorola Droid 2 Specs and Features:
3G Mobile Hotspot Capable Connect up to five WiFi devices
5-megapixel camera
Slide-out full QWERTY keyboard
DVD quality video capture
Exchange Email support
1GHz Texas Instruments OMAP processor
512MB of RAM
8GB of internal storage
8GB micro SD card pre-installed (Support for up to 32GB cards)
Flash 10.1
Skype Mobile
Blockbuster On Demand
The Motorola Droid 2 is currently available from Verizon Wireless for $199, after $100 mail-in rebate and new two-year contract.
Review Roundup
Generally, those who have reviewed the Motorola Droid 2 have found it to be a solid Android smartphone. Most reviewers thought the Droid 2 was a step up from the original Motorola Droid, but there is still much room for improvement. Among the Droid 2's shortcomings include its crippled operating system, cheap build quality, buggy WiFi, mediocre call quality, inconsistent Flash performance, and new but not necessarily better keyboard.
Engadget – Droid 2 review: "Motorola and Verizon knew they needed to bring the old model up to spec if they wanted to keep a quality physical QWERTY Android device on the shelves. The problem is that in doing so, they've killed off one of the Droid's most endearing features — the fact that it ran stock Android — and have failed to make any improvements compelling enough to warrant an upgrade. In other words, Droid owners, don't feel bad that your phone has been replaced here; in fact, we're pretty sure we'd rather have a Froyo-equipped Droid over a Droid 2, especially since the 2's new processor fails to translate into huge performance gains that you can feel in your day-to-day usage." – Chris Ziegler
LAPTOP Magazine – Motorola Droid 2 (Verizon) Review: "The Droid 2 is a very good sequel, boasting slicker design with a more comfy keyboard, a speedy processor, and a highly functional version of Android 2.2 (with Motorola's custom widgets). However, this phone also has some drawbacks, including buggy Wi-Fi, mediocre call quality, and inconsistent Flash performance. Assuming Verizon Wireless and Motorola work out these bugs, we'll give this phone an Editor's choice award." – Avram Piltch
Boy Genius Report – Motorola DROID 2 unboxing / impressions: "The handset unfortunately feels a little bit cheaper than the original. It creaks along the sides a bit, and we're not in love with the design identity of the phone."
"Android 2.2 doesn't really feel like Android 2.2 since it's been BLUR'd and MOTO'd. We'd have loved this to be a stock Android 2.2 handset. This is basically a DROID X in a different form factor."
"All in all seems solid, and a great product refresh, though we do wish that Motorola would have pushed the bar a tad bit higher." – Boy Genius
Fortune Tech (CNN) – Droid 2 review: Slightly better than last time: "There isn't much difference between the Droid 2 and the original Droid that debuted last year.  In fact, besides the better keyboard, bluer back and longer lip on the front, you probably won't notice a difference.  But that's not such a bad thing.  The original Droid was (and still is) a damn fine piece of equipment." – Seth Weintraub
PC Magazine – Motorola Droid 2 (Verizon Wireless) Review & Rating: "While the Droid X and Droid 2 are quite similar, the Droid X has a few more positive attributes."
"That said, we'd recommend buying the Motorola Droid 2, and it is our new Editors' Choice for keyboarded smartphones on Verizon. The Droid 2's processor is much, much faster than the Ally's and the Devour's, and that makes for a phone that will feel more current throughout its two-year lifespan." – Sascha Segan
CNET – Motorola Droid 2 (Verizon Wireless): "As the successor to the Droid, the handset offers a number of improvements, including a sleeker design, better keyboard, faster processor, and the latest version of Android OS. It lacks some of the higher-end features of the Droid X, but it's still an outstanding device on its own. There are enough improvements to make it worth the upgrade, and it will certainly satiate the need for those who want a physical keyboard." – Senior Editor, Bonnie Cha
Advertisement