Is the default text size in Windows too small for you or an aging relative? If so, there are several easy ways to increase the font size across Windows and an easy way to increase the size of text in your browser.
To Increase the size of text in Windows XP follow these steps: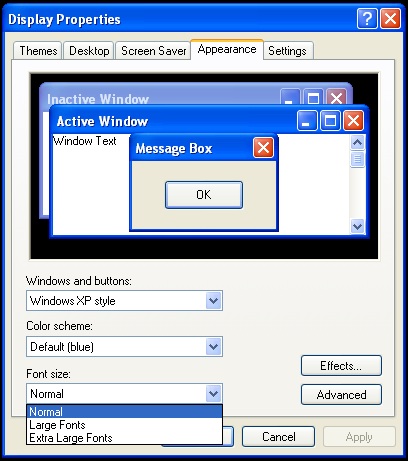 Right Click on the desktop.
Click Appearance.
In the Font Size drop down, click on the down arrow and choose a larger size.
Click OK and exit.
Your font should now be bigger.
How to increase the font size in Windows Vista: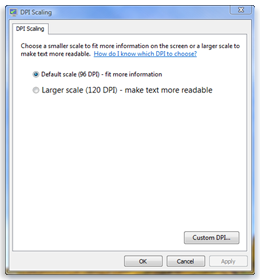 Click Start.
Click Control Panel, then Appearance and Personalization.
Click Personalization.
On the left choose "DPI Scaling" and select 120DPI – make text more readable".
Close the window and restart your computer to complete the change.
How to change font size in Windows 7
Right Click on the desktop.
Click on Screen resolution.
Click "Make text and other items larger or smaller"
Select the size you want and click Apply. Depending on your computer you may be able to choose a size of 125% or 150%.
Close the Window.
How to increase the font size in your web browser.
If the text in your web browser is still not large enough to easily see you can increase the font size of any webpage by pressing the plus, +", key on your keyboard. This will work on almost any text you find online. To decrease the text press the minus, -, on your keyboard.
Additional steps for larger, easier to read text.
If, after taking these steps, it is still difficult to read the text check out the Accessibility or Ease of Access sections of Windows where you will find a magnifier and other tools.
In Windows XP click Start -> Accessories-> Accessibility
In Windows Vista click Start > Control Panel -> "Ease of Access Center"
In Windows 7 click Start and type ease". When it appears, click Ease of Access Center".
Advertisement