Ten-inch netbooks from Dell and HP may become more scarce according to DigiTimes (via Engadget). The sources say Dell will be cutting production and HP may possibly even leave the space to focus on larger 11.6 inch notebooks with AMD chips. Prices have been cut by competitors and the manufacturers are seeing lower than expected profits from Intel-based Pine Trail netbooks.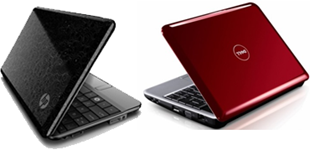 The report adds that Samsung, Acer and Asus gain a large portion of their business in this space and will not be leaving it any time soon.
There have been recent reports that predicted 2010 netbook sales will wane. The fear among netbook builders is that the iPad will  have an affect on the 40 million netbooks sold each year. If HP and Dell confirm these reports, those fears could be realized. Yet, Asus is going after both the tablet and netbook markets with its soon to be released Asus Eee PC T101MT 10 inch convertible tablet netbook.
Advertisement